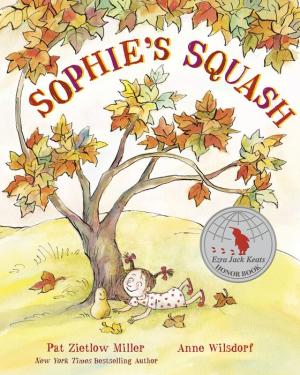 Buy This Book
---
---
"At the farmers' market, squash were everywhere. Firm, shiny squash. 'What keeps a squash healthy?' Sophie asked a farmer. 'It's simple, really,' he said. 'Fresh air. Good, clean dirt. A little love.' Well, Sophie thought, I have all that." –Sophie's Squash
Sophie's Squash
by Pat Zietlow Miller
AR Test, Must Read
At A Glance
Interest Level

3—7
Entertainment
Score
Reading Level
2.8
One fall day, Sophie makes a surprising friend during her family's sunny trip to the local farmers' market. The friend just happens to be a squash. Sophie calls her Bernice. At first, Sophie's parents let Sophie care for and love Bernice—taking her to storytime at the library, introducing her to the other squash at the market, practicing somersaults in the garden, and tucking baby Bernice into a crib at night with a bottle. "Well, we did hope she'd love vegetables," Sophie's parents humorously justify. However, as Bernice begins to get older and rot, Sophie's parents try to convince Sophie to cook Bernice, or send her to a food donation site. Even the other children during library storytime look down on Bernice as she ages. However, Sophie is not ready to ever give up her perfect friend—so when Bernice begins to soften and can no longer do somersaults, Sophie makes the difficult decision to put her in a bed of soft soil and wait for Bernice to grow again.
Sophie's Squash is a wonderfully gentle tale that not only teaches children how to care for the things that they love, but also shows readers how letting go can sometimes lead to new possibilities. Miller thoughtfully weaves her story of Sophie and Bernice alongside whimsical watercolor illustrations in which illustrator Anne Wilsdorf fully showcases Sophie's somersaults, Bernice's baby carriage rides, and multiple family trips to the farmers' market. Even though Sophie's Squash is longer than most picture books, two or three illustrations sit on each page and break up the text so that there is no more than five to ten lines between each image. The watercolor illustrations also work to bring the entire narrative to life, so viewers still gain a complete grasp of the story by looking only at the pictures. This, coupled with the digestible nature of Miller's prose, makes Sophie's Squash perfect for new and learning readers.
Throughout all the quirky shenanigans of Sophie's Squash, Sophie's character shines with a heroic agency and independence. Sophie's care towards Bernice turns this silly story about a girl and a squash into a truly heartwarming story about friendship, care, and even environmentalism. By exemplifying the new path Sophie must take in order to regrow her friend Bernice, Sophie's Squash creates a powerful metaphor demonstrating the wondrous things that can come from putting something else's needs— particularly the needs of nature— before your own.
Sexual Content
Violence
Drugs and Alcohol
Language
One of the children at the library points and stares at Bernice, saying to Sophie, "What's that spotty thing?" In the narrative, this question takes on a teasing tone that may be hard for some children to read.
Supernatural
Spiritual Content
by Hannah Olsson
---
"At the farmers' market, squash were everywhere. Firm, shiny squash. 'What keeps a squash healthy?' Sophie asked a farmer. 'It's simple, really,' he said. 'Fresh air. Good, clean dirt. A little love.' Well, Sophie thought, I have all that." –Sophie's Squash