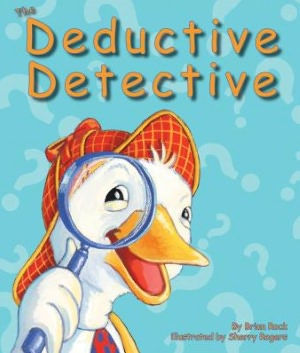 Buy This Book
---
---
"One of these twelve bakers stole that cake! But I'll quack this case in no time. I'll find clues that will subtract each suspect until there is just one left," Detective Duck. –The Deductive Detective   
The Deductive Detective
by Brian Rock
AR Test, Must Read, Picture Book
At A Glance
Interest Level

5 - 8
Entertainment
Score
Reading Level
3.6
Someone stole a cake from the cake contest—who could it be? Twelve animal bakers are potential suspects, but Detective Duck uses his deductive reasoning skills to "quack" the case. For instance, the thief left hairs behind, so the thief wasn't a bird. Follow along as he subtracts each suspect one at a time to reveal who the culprit was.
The Deductive Detective uses humor to introduce simple subtraction, deductive reasoning, and animal facts. Even though the story is packed full of facts, the puns and plays on words will keep readers entertained. Each time Detective Duck eliminates a culprit, a pun is used. For example, when Detective Duck discovers that Cow couldn't have stolen the cake, Duck says, "So Cow is free to moooo-ve along home." Detective Duck explains his logic in a kid-friendly way that is easy to understand. Another positive aspect is that each page shows the math that Detective Duck uses during the investigation. When Detective Duck has eliminated all but one suspect, the thief's confession will make readers giggle.
Readers will enjoy following Detective Duck as he walks through the crime scene. The brightly colored illustrations and adorable animal suspects will immediately grab readers' attention. When Detective Duck eliminates a suspect, the suspect becomes the focal point of the illustrations. Up to 5 sentences appear on a page; the words are on a solid background that makes the text easy to read.
Even though The Deductive Detective is a picture book, the story is intended to be read aloud to a child, rather than for the child to read it for the first time independently. The Deductive Detective is part of Aborale Publishing, and is intended to be a "fun-to-read story and a launch pad for discussions and learning." The story includes a 2-page "For Creative Minds" section in the back of the book and a 27-page cross-curricular "Teaching Activity Guide" online.
The Deductive Detective uses a fun story to show readers how to use logic in solving a mystery. Young readers will giggle as they learn important skills such as math and comparing and contrasting animals. Parents may also want to check out Wallace and Grace by Heather Alexander, which also teaches problem-solving skills.
Sexual Content
Violence
 Drugs and Alcohol
Language
Supernatural
Spiritual Content
---
"One of these twelve bakers stole that cake! But I'll quack this case in no time. I'll find clues that will subtract each suspect until there is just one left," Detective Duck. –The Deductive Detective