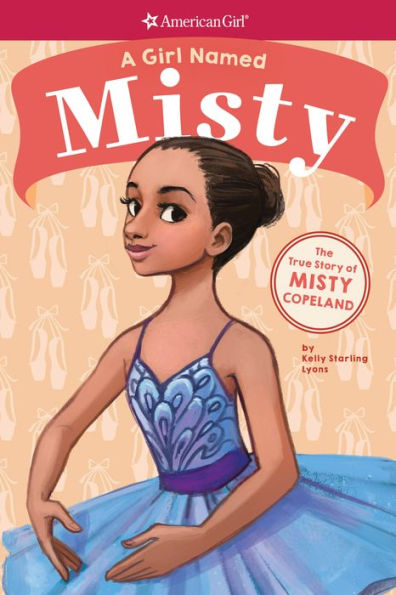 Buy This Book
---
---
"It hurt Misty to know that some people didn't think women with brown skin and curves should be ballerinas. Over time, other African Americans in the world of ballet helped Misty see that she belonged." –A Girl Named Misty
A Girl Named Misty: The True Story of Misty Copeland
American Girl
by Kelly Starling Lyons
AR Test
At A Glance
Interest Level

7+
Entertainment
Score
Reading Level
5.3
Growing up, Misty Copeland was a shy girl who loved to dance. Ballet opened up a whole new world where Misty was able to shine. Because she is African American, Misty faced barriers to becoming a dancer. Through a lot of hard work, determination, and incredible talent, Misty became a star at one of the top ballet companies in the world and helped change the face of dance.
The story chronicles Misty's life from when she was in elementary school. Unlike most dancers, Misty didn't start ballet until she was thirteen. In the beginning, Misty felt awkward and insecure, but she continued to work hard and improve.
Misty eventually moved to New York City and became a member of the American Ballet Theatre (ABT). During her time with the theatre, Misty was the first African American dancer to be cast in a part for a major ballet company. However, she was devastated when she was injured and had to take a break from dance. Despite this, she overcame the obstacle and became the first African American woman to be the principal dancer at ABT.
Misty's life is described through text and large, full-color illustrations. Each two-page spread has a full-page illustration and one page of oversized text. Dancing terminology appears in bold letters and a glossary is included at the back of the book. The end of the book also has a timeline of Misty's life, four pictures of Misty performing. There is also a short article about another amazing girl, Alexa Narvaez, who sings and posts her videos on the internet. Even though the book's format will appeal to younger readers, they may struggle with the difficult vocabulary. However, short chapters make A Girl Named Misty a good choice to read aloud.
A Girl Named Misty shows how hard work and dedication made Misty a successful dancer. Her motivational story will encourage girls to reach for their dreams. Even though the biography teaches about Misty's life, the text doesn't contain any direct quotes from Misty.
Even though Misty's life revolved around dance, anyone who has ever faced an obstacle will relate to her. Misty's story will teach readers that many obstacles can be overcome with hard work. In the end, "Misty, the shy little girl with the big talent, had become the star she was always meant to be." Strong elementary readers looking for dance books will also want to read Out of Step by Jake Maddox.
Sexual Content
Violence
 Drugs and Alcohol
Language
Supernatural
Spiritual Content
---
"It hurt Misty to know that some people didn't think women with brown skin and curves should be ballerinas. Over time, other African Americans in the world of ballet helped Misty see that she belonged." –A Girl Named Misty