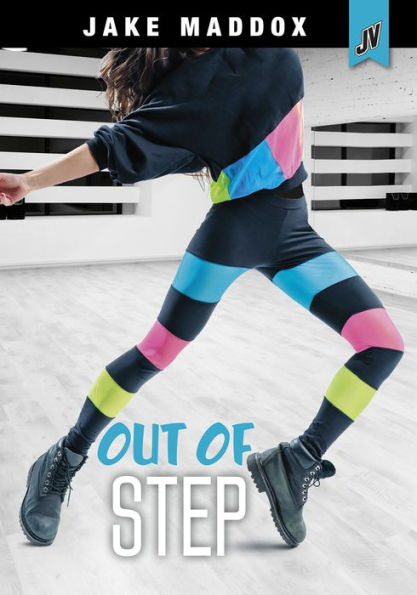 Buy This Book
---
---
"Seeing you work so hard encouraged me to work hard too," Jill. —Out of Step
Out of Step
Maddox JV Girls
by Jake Maddox
AR Test, Good for Reluctant Readers
At A Glance
Interest Level

9+
Entertainment
Score
Reading Level
4.2
Mercy loves to dance, but she has been having trouble lately. She just can't seem to get the steps, let alone land her cartwheels, round offs, walkovers, or handsprings. After a particularly hard practice, Mercy's mom provides some insight into her struggles: Mercy's four-inch growth spurt has thrown off her center of gravity.
Mercy's mom suggests asking the dance coach, Sara, for some extra lessons. Mercy is hesitant though because she doesn't want Coach Sara to think she isn't good enough for their upcoming competition. One of Mercy's friends suggests booking a private lesson with another dance coach. Mercy, excited at the prospect of a private lesson but knowing her family doesn't have a lot of spare money, decides to get a job walking her neighbor's dog every morning before school in order to save up enough money for the lesson.
Mercy discovers having a job is tiring and now her dancing is worse than ever. When she messes up at a dance competition, she finally comes clean to Coach Sara. Graciously, Coach Sara offers to stay after dance practices to give Mercy extra help. These extra practices, along with Mercy's determination, finally pay off at the quad city tournament, where her team wins first place.
Out of Step focuses mainly on Mercy's inner conflict. She is admirable for her resolve, but she relies on herself too much instead of asking others for help. Mercy suffers from a lack of adult leadership; her parents see her struggling but do not intervene. Coach Sara only offers Mercy extra lessons when she messes up at a competition. In addition, Mercy's feelings are hurt when one of her teammates, Jill, makes a snarky remark about how tall Mercy is. Eventually, the two girls make amends when Mercy finds out Jill takes extra lessons, too.
Mercy is an overall good example for readers, especially dancers. She never gives up and does everything she can to make herself a better dancer, thus making the team stronger. At a competition, she makes the difficult and selfless decision to sit out on their routine because she is too tired to perform. Mercy's dance team also highlights how teammates should be steadfast in their support for one another.  After reading Out of Step, readers will learn it's okay to ask for help and being a teammate means doing what is best for the whole team.
Out of Step is part of the Jake Maddox JV Girls series, a series of standalone sports books. It has a simple plot and is separated into short, easy-to-read chapters, making it good for reluctant readers.
Some readers will need to use the glossary to understand the scenes where the choreography is described in detail. However, readers do not need to have an understanding of dance to enjoy the book. The back of the book also has discussion questions and writing prompts. Out of Step is a feel-good book that will inspire readers to overcome their challenges.
Sexual Content
Violence
Drugs and Alcohol
Language
Supernatural
Spiritual Content
by Jill Johnson
---
"Seeing you work so hard encouraged me to work hard too," Jill. —Out of Step