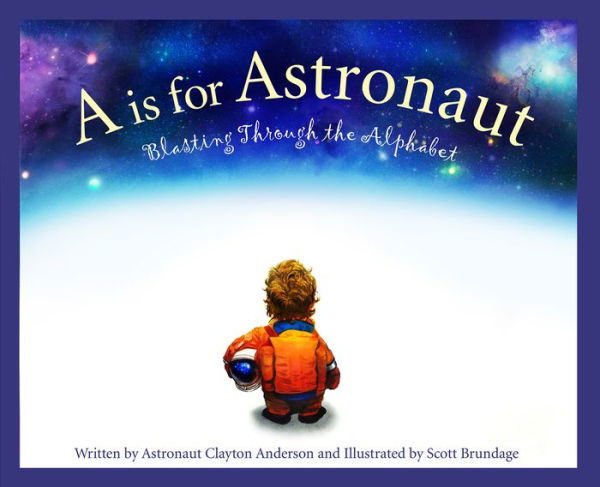 Buy This Book
---
---
"A is for astronaut, the bravest of souls they fly into space, and assume many roles. They pilot, they spacewalk, they even cut hair." – A is for Astronaut: Blasting Through the Alphabet
A is for Astronaut: Blasting Through the Alphabet
by  Clayton Anderson
Must Read, Picture Book
At A Glance
Interest Level

8+
Entertainment
Score
Reading Level
6.4
Retired astronaut Clayton Anderson takes readers on an A to Z flight through the alphabet from astronaut and blastoff to spacewalk and Zulu Time. Topics cover science, the history of NASA, and practical aspects of being an astronaut. In addition, A is for Astronaut has other astronaut facts that books usually overlook—such as how astronauts take out the trash while in space!
Even though younger readers may not understand all of the scientific information in A is for Astronaut, this picture book will captivate readers of all ages. Each letter has a fun poem paired with longer expository text. The main text appears in the form of a rhyming poem. Most pages have a sidebar that explains more about each topic. These sidebars have 2-3 paragraphs that use some difficult vocabulary. For younger readers, the poem will give enough information without reading the sidebars, while older readers will enjoy the additional tidbits in the sidebars.
The illustrations in A is for Astronaut are so beautiful that they would make gorgeous pictures to hang on the wall! The full-page illustrations use a kaleidoscope of color to show the beauty of space and the wonder of space travel. For example, one picture shows a child's face, clearly captivated by a space shuttle launch which is reflected in the child's sunglasses. Each illustration has beautiful details that show different aspects of space flight such as the planets, the astronauts, and the people on earth. While most illustrations focus on planets and astronauts in space suits, the pictures include a diverse group of men and women which will allow all readers to picture themselves in a space-related career.
Every child should read A is for Astronaut because the text and illustrations combine to show the wonder of space flight. For those who do not already love science or space, A is for Astronaut will provide a basic understanding of space flight. But more importantly, the book might just spark readers' interest in space flight, the planets, or a career in science.
Sexual Content
Violence
 Drugs and Alcohol
Language
Supernatural
Spiritual Content
---
"A is for astronaut, the bravest of souls they fly into space, and assume many roles. They pilot, they spacewalk, they even cut hair." – A is for Astronaut: Blasting Through the Alphabet