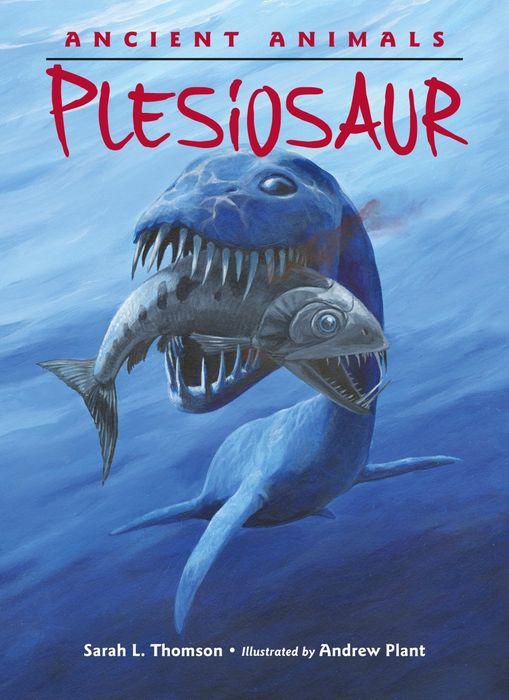 Buy This Book
Buy This Series
---
---
"Plesiosaurs were reptiles. Other reptiles lived at the same time. Crocodiles and turtles and mosasaurs swam in the sea." –Plesiosaur
Ancient Animals: Plesiosaur
by Sarah L. Thomson
At A Glance
Interest Level

6+
Entertainment
Score
Reading Level
2.9
It lived deep in the ocean. Other animals might not notice when it swims close. But beware. . . it is a hunter with sharp teeth and a long, long neck. What is it? It's a plesiosaur.
Plesiosaur will appeal to young readers who are interested in dinosaurs and other extinct animals. Readers will learn many interesting facts such as how "a pile of smooth stones sat in [the plesiosaur's] stomach. The stones may have helped to crush food." The book also explains how the plesiosaur, which was a reptile, was different than mammals. While it is not clear why the plesiosaurs went extinct, the book covers several reasons they are no longer alive. In addition, the end of the book compares the plesiosaur to other marine reptiles such as the marine iguana and the saltwater crocodile.
The book's easy-to-read format will appeal to even the most reluctant readers. Each two-page spread has a one-page picture and one page of text. Each page has 3 to 5 sentences typed in oversized text that is surrounded by white space. The large pictures show the plesiosaur as well as other sea creatures that swam in an ocean that once covered Kansas. The illustrations also label the different types of sea creatures that appear.
The mix of text and illustrations is both appealing and educational. Readers will learn about how the plesiosaur took care of their young and the plesiosaur's predators. The easy-to-read format breaks the text into manageable sections so young readers will not get bored. Beginning readers who are interested in dinosaurs and paleontology should also read the picture book Barnum Brown Dinosaur Hunter by David Sheldon.
Sexual Content
Violence
The book discusses the plesiosaur's eating habits. A plesiosaur "grabbed the fish with sharp, thin teeth. It gulped the meal down in one bite."
 Drugs and Alcohol
Language
Supernatural
Spiritual Content
---
"Plesiosaurs were reptiles. Other reptiles lived at the same time. Crocodiles and turtles and mosasaurs swam in the sea." –Plesiosaur