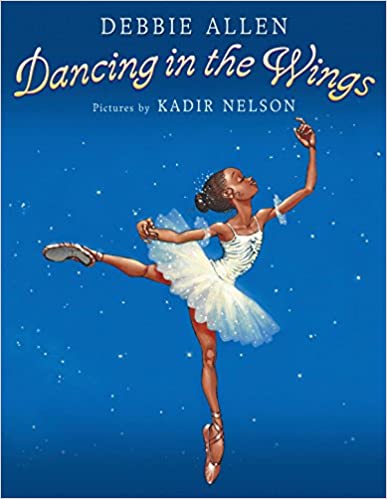 Buy This Book
---
---
"

Sassy

,

"

Uncle Reed

said, "you

gotta

look at that as a gift. Being tall means you can see all around, so you can always find the right pat

h."

–

Dancing in the Wings
Dancing in the Wings
by Debbie Allen
AR Test
At A Glance
Interest Level

5+
Entertainment
Score
Reading Level
3.5
Sassy is a long-legged girl who always has something to say. She wants to be a ballerina more than anything, but she worries that her too-large feet, too-long legs, and even her big mouth will keep her from her dream. When a famous director comes to visit her class, Sassy does her best to get his attention with her high jumps and bright leotard. Her first attempts are definitely not appreciated, but with Sassy's persistence, she just might be able to win him over. Dancing in the Wings is loosely based on actress/choreographer Debbie Allen's own experiences as a young dancer. 
Sassy and her classmates are in that awkward preteen stage where girls often begin to sprout up. At dance class, Sassy stands out for all the wrong reasons. Since Sassy is so tall, she is "too big for the boys to pick up, and too tall to be in line with the other girls." Instead of being on stage, Sassy stays backstage watching others perform. Despite this, Sassy continues to practice, and eventually, she becomes the star of the show.  
Dancing in the Wings is a motivational story that shows the importance of dedication and hard work. While the story focuses on Sassy's love of dance, her family is showcased in a positive manner. Both Sassy's mother and uncle encouraged her to keep dancing. Despite his teasing, Sassy's brother and his football team make an appearance to support Sassy. One negative aspect of the story is the mean words exchanged between Sassy and the other dancers. Even though the other girls tease Sassy, she never gives up.  
Even though Dancing in the Wings is a picture book, the story will need to be read aloud to a child rather than for the child to read it independently. Each page has five to fifteen complex sentences and some difficult vocabulary that younger readers may not understand. Both Sassy and the other dancers are African American. Large pictures showcase Sassy's family as well as Sassy's dancing. In order to give readers a visual of how tall Sassy is compared to the other dancers, the illustrations show Sassy towering over her classmates. Readers will cheer when Sassy is chosen for a select spot at a summer dance festival and her height is no longer a disadvantage. 
Parents looking for an inspirational story to share with their child should read Dancing in the Wings to their children. If your little one is too squirmy to sit through a longer book, Parker Shines On by Parker & Jessica Curry may be a better choice. Both books are well-suited for children who love dance and have participated in a dance class. To introduce your child to more inspiring women, She Persisted in Sports by Chelsea Clinton showcases many athletes who overcame obstacles in order to achieve their goals. 
Sexual Content  
Violence  
Drugs and Alcohol  
When Sassy's uncle picks her up from dance class, he smells of cigars.

 
Language    
Sassy signs up for dance auditions. Afterward, she overhears two girls talking about her. Mona says, "Oh please, she'll never make it. They said talent, not a tyrannosaurus."

 

While auditioning, Sassy tells Mona, "Your little skinny short legs are gonna look like chicken wings next to mine." Mona replies, "I'd rather look like a chicken than a turkey like you with that long neck." 

 

While auditioning, Mona says Sassy has a big butt.

 

Sassy teases her brother about having a "big forehead lookin' like a street lamp" and her brother teases her about being tall and having big feet.

 
Supernatural 
Spiritual Content  
---
"

Sassy

,

"

Uncle Reed

said, "you

gotta

look at that as a gift. Being tall means you can see all around, so you can always find the right pat

h."

–

Dancing in the Wings