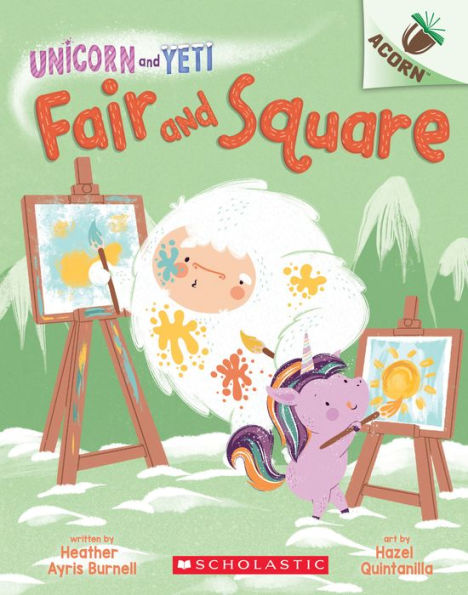 Buy This Book
---
---
"Hearts show how I feel about my favorite friend," Unicorn. –Fair and Square
Fair and Square
Unicorn and Yeti #5
by Heather Ayris Burnell 
AR Test
At A Glance
Interest Level

5+
Entertainment
Score
Reading Level
1.8
In Chapter 1, Unicorn and Yeti talk about their favorite shapes—stars, squares, and circles. Using these shapes, the two friends create a village in the snow. Yeti likes triangles because "lots of my favorite things are triangles, like trees and ice cream cones."
In Chapter 2, Unicorn and Yeti are both painting, but they paint differently. Yeti looks at Unicorn's picture and feels bad about his own paintings because he thinks they look messy. But Unicorn likes Yeti's paintings. She says, "My paintings only look like what we see. Your paintings are fancy. They look like magic!" Even though the two friends paint in different ways, both of their artwork is beautiful.
In Chapter 3, Unicorn and Yeti are sharing a pie. Yeti cuts the pie in half, but Yeti cannot eat all of his pie. Yeti offers the rest to Unicorn, who is hungry. Unicorn worries that "I will get more pie than you. That will not be fair." In the end, Unicorn eats the rest of the offered pie because, "If I eat your pie, then we will both be full. Fair and square."
Children who are learning to read will enjoy reading about Unicorn and Yeti's adventures, which teach about friendship. The text is easy to read and when each character talks, their words appear in different colored quote boxes. Each page has a full page of illustrations and contains three or fewer sentences. Beginning readers should be able to read the text alone and will enjoy flipping through the story multiple times to look at the colorful pictures.
The Unicorn and Yeti Series is perfect for all young readers, even the ones that become a little bit wiggly after a short time. Each book shows readers how to be a good friend, and encourages readers to embrace their own uniqueness. Fair and Square will introduce shapes, sharing, and show that things do not need to be the same to be beautiful. The story uses simple language to introduce important topics and each story is so much fun that readers won't get bored.
Sexual Content
Violence
 Drugs and Alcohol
Language
Supernatural
Spiritual Content
---
"Hearts show how I feel about my favorite friend," Unicorn. –Fair and Square