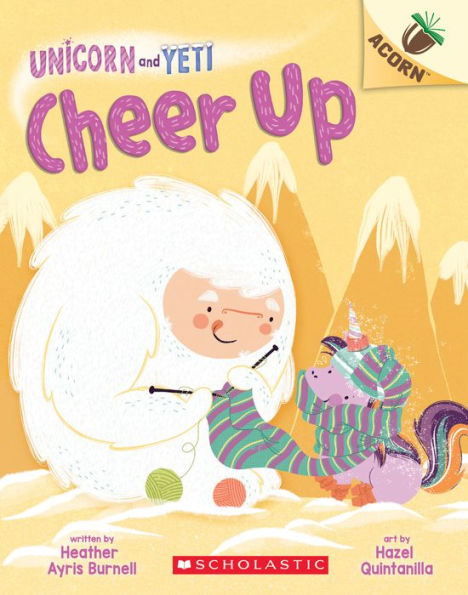 Buy This Book
---
---
"No one has given me a gift before. This is the first gift I have ever gotten," Yeti. —Cheer Up  
Cheer Up
Unicorn and Yeti #4
by Heather Ayris Burnell
AR Test
At A Glance
Interest Level

5+
Entertainment
Score
Reading Level
2.0
It's winter and Unicorn and Yeti want to spend time together because they are each other's best friend. When Unicorn gives Yeti a gift, Yeti wants to give Unicorn a gift too! Then, after Yeti is crunching icicles, Unicorn decides to eat icicles too! The icicles are yummy, but they make Unicorn so cold! Yeti has a solution—he's going to knit Unicorn a hat, a scarf, and leg warmers for a gift. After Unicorn is warm, the two friends take a walk in the forest.
Unicorn and Yeti is a fun series designed for children who are learning to read. Cheer Up contains easy-to-read text. Each page has a full page of illustrations and contains no more than three sentences. When each character talks, their words appear in different colored quote boxes. Beginning readers should be able to read the text alone and will enjoy flipping through the story multiple times to look at the colorful pictures.
Cheer Up is the perfect book for all young readers—even the ones that become a little bit wiggly after a short time. As the fourth installment in the series, it can be read as a stand-alone story. Unicorn and Yeti show how friends can be different from each other and still enjoy a special friendship. The two friends react to things in different ways and their friendship helps them see another side to the situation. If you're looking for a fun book that shows the importance of friendship, Cheer Up is a winter-themed book that will warm readers' hearts.
Sexual Content
Violence
Drugs and Alcohol
Language
Supernatural
Spiritual Content
---
"No one has given me a gift before. This is the first gift I have ever gotten," Yeti. —Cheer Up