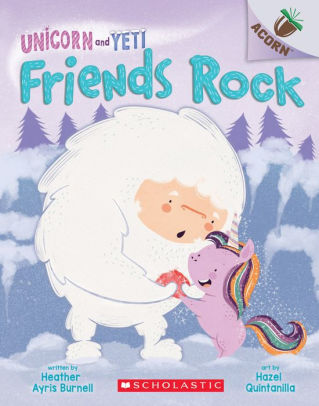 Buy This Book
---
---
"I want to try peaches because you say they are the best. But I do not know if I will like them," Yeti. –Friends Rock  
Friends Rock
Unicorn and Yeti #3
by Heather Ayris Burnell
AR Test
At A Glance
Interest Level

5+
Entertainment
Score
Reading Level
1.8
Unicorn and Yeti love being friends, even though they are very different from each other. When Unicorn and Yeti go to the park, they have fun playing on the swings. But they have even more fun when they find something that they can do together.
Unicorn and Yeti see a sparkly rock at the same time. Both of them want to keep the rock. If Unicorn put the rock in her cloud, it would make her home fancy, but then Yeti wouldn't be able to see it. If Yeti put the rock in his cave, it would make his home fancy, but then Unicorn wouldn't be able to see it. Where can the two friends put the rock so they can both enjoy its sparkles?
Unicorn thinks that peaches taste like sunshine. Yeti thinks that ice cream tastes like snow. Unicorn and Yeti don't understand why they like different foods, but when they share, they realize that both peaches and ice cream taste wonderful.
Friends Rock is broken into three short chapters and each chapter tells a new story. The two friends are completely different, but that doesn't stop them from finding fun things to do together. Instead, the two use effective communication skills that allow them to compromise and try new things. The unusual friends both love sparkly things and spending time together.
Anyone who has had a conflict with a friend will relate to Unicorn and Yeti. Cute, colorful, full-page illustrations appear in panels. The simple plot is engaging and teaches about friendship. Even though Unicorn and Yeti do not always agree, they always find a way to solve their conflicts.
Designed for children who are learning to read, Friends Rock contains easy-to-read text. Each page has 1 to 4 simple sentences. Some sentences are only one word. When each character talks, their words appear in different colored quote boxes. The short sentences and repetition of words will help readers build confidence, fluency, and a love of reading. The books in the Unicorn and Yeti Series do not need to be read in order. The Unicorn and Yeti Series engages readers while teaching important lessons about friendship and communication.
Sexual Content
Violence
 Drugs and Alcohol
Language
Supernatural
Spiritual Content
---
"I want to try peaches because you say they are the best. But I do not know if I will like them," Yeti. –Friends Rock