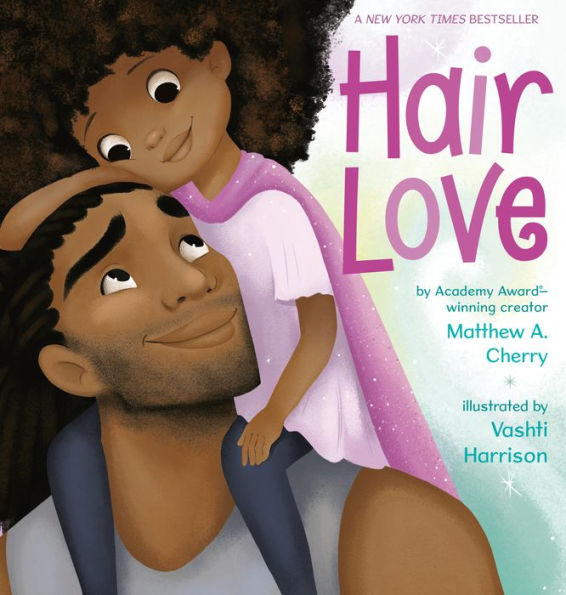 Buy This Book
---
---
"Daddy tells me it [my hair] is beautiful. That makes me proud. I love that my hair lets me be me!" Zuri. –Hair Love  
Hair Love
by Matthew A. Cherry
AR Test, Must Read, Picture Book
At A Glance
Interest Level

4 - 8
Entertainment
Score
Reading Level
2.1
Zuri's hair lets her be her. It coils and kinks to perfectly match a princess tiara or a super-hero cape. This morning, Zuri is too excited to sleep because her mom is coming home. Zuri knows that she's beautiful, but today she wants an extra-special hairstyle.
Zuri knows her father has had to work extra hard while her mom was away, so she doesn't want to wake him up. Zuri wants to do her own hair, but she accidently wakes up her daddy. He is convinced that styling Zuri's hair will be "a piece of cake." Soon, Daddy realizes that Zuri's hair has a mind of its own.
While Zuri's father loves the hairstyle he has created, Zuri and her cat aren't impressed. After several styles and some tears, Daddy watches a tutorial. "Daddy combed, parted, piled, and twisted. He nailed it!" When Mommy comes home, she gives Zuri a big hug and tells her, "And your hair is beautiful."
Hair Love isn't only a book about expressing yourself, but also a beautiful story of a father and daughter. Both Zuri and Daddy show each other their love through actions. Zuri makes her father breakfast—cereal, an apple, and a juice box. Zuri lets him sleep because she knows he is tired. Zuri's father also acknowledges Zuri's need to look beautiful and creates several hairstyles before he finds the perfect one.
Told with full-page pastel illustrations, Zuri's plight becomes real. When Daddy tries to style her hair, the results are often comical. Both the cat and Zuri's opinions of each hairstyle are portrayed through the characters' expressions. Even though the illustrations are often humorous, Hair Love does an excellent job of showing how Zuri's hair allows her to express herself. The ending of the story shows Zuri's mother, who is wearing a scarf over her head, hinting that she is undergoing cancer treatments. Even though most readers will not pick up on this aspect of the story, readers who know someone with cancer will understand the illustration's significance.
Readers will fall in love with Hair Love and want to read the story over and over. Through both the illustrations and text, the story shows the special bond between father and daughter and highlights the family's love for each other. The story's message is simple and readers will understand Zuri's need to feel beautiful and to express herself. Hair Love will leave readers with a smile and a new understanding of family love.
Even though Hair Love is a picture book, the story is intended to be read aloud to a child, rather than for a child to read it for the first time independently. Most pages contain 1-2 sentences, which makes the story a quick read and an excellent bedtime story. Hair Love should be in everyone's home library because the story showcases healthy family relationships and highlights the importance of expressing yourself. If you're looking for another picture book that explores family relationships, add Mars Needs Moms by Berkeley Breathed to your reading list. Another must-read picture book that shows the importance of loving yourself is Sulwe by Lupita Nyong'o.
Sexual Content
Violence
 Drugs and Alcohol
Language
Supernatural
Spiritual Content
---
"Daddy tells me it [my hair] is beautiful. That makes me proud. I love that my hair lets me be me!" Zuri. –Hair Love