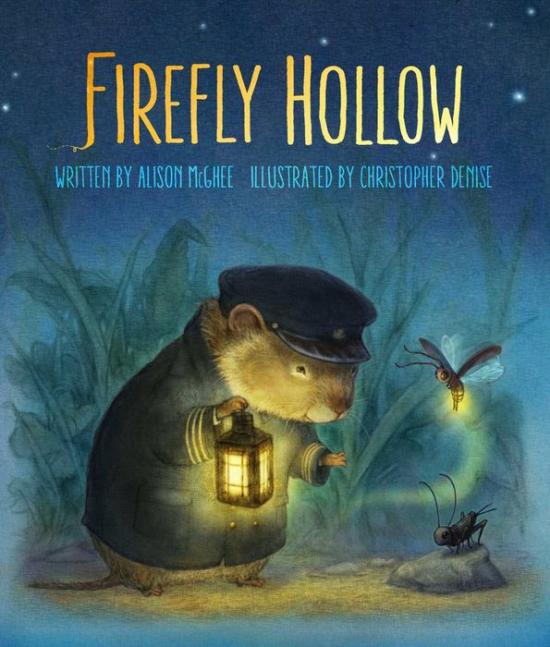 Buy This Book
---
---
"Giants are to be feared. Giants are to be avoided at all costs. Giants are the enemies of the firefly and cricket nation," Fear of Giants Class. –Firefly Hollow
Firefly Hollow
by Alison McGhee
AR Test, Must Read
At A Glance
Interest Level

8+
Entertainment
Score
Reading Level
4.7
There are certain things that are taught to the young fireflies and crickets of the Hollow. But Firefly doesn't only want to learn how to fly—she wants to fly to the moon. And Cricket doesn't only want to sing about baseball games—he wants to play in one.
Their dreams seem too big for the Hollow, and as Firefly and Cricket chase them beyond the trees, they stumble upon a giant, like the ones they have always been warned about. But this giant is different—he's miniature, and his name is Peter.
Peter is in need of friends, even small ones, even if his dad thinks they are imaginary. But Firefly and Cricket are actual, not imaginary. And so are their dreams. And sometimes dreams, like friendships, lead to something extraordinary.
In the Hollow, both fireflies and crickets have been warned to stay away from humans, who are dangerous. "The worlds of tiny creatures and humans were unbridgeable, or at least that's what crickets and fireflies were always told. But every once in a while, there was one—sometimes two—who ventured out of firefly nation, out of the cricket nation, to test the waters on their own." Despite their fear, Firefly and Cricket leave the hollow and become friends with Peter. In the process, they learn that friends—no matter how small—can come in unlikely places.
Firefly Hollow shows how dreams can come true in unexpected ways. Unlike most of the Hollow's creatures, Peter doesn't make fun of Firefly's and Cricket's dreams. Instead, he helps them achieve their goals through encouragement and advice. Through the three friends' experiences, readers will learn that true friends are kindred spirits who accept you as you are. As Vole says, "A kindred spirit is someone who understands the deepest dream of your heart."
The Hollow is portrayed in a magical way through beautiful illustrations. Both black and white drawings and full-color illustrations appear every 3 to 7 pages. Most of the black and white illustrations focus on the characters. The colored illustrations show the beautiful light from fireflies as well as the scale of Firefly and Cricket compared to their surroundings. While younger readers will love the story, they may need help with the book's advanced vocabulary which includes words like carapace, heedless, disintegrate, circumnavigated and kindred.
Firefly Hollow is a must-read because it is a beautiful story about friendship that shows the importance of determination, preservation, practice, and trying new things. The story also explores the idea of death by focusing on how people are missed after they die. Even though Firefly and Cricket are bugs, they are completely loveable and relatable. Readers will fall in love with the two friends who remind us that dreams are never too big.
Sexual Content
Violence
The Museum of Giant Artifacts has items from the human world. In the museum, "the Jar that was especially horrifying to the firefly nation. The Jar! It contained actual firefly corpses!"
A cricket named Gloria is injured by a human. "One lollipop stick flung carelessly from the hand of a miniature giant and now there she is—one front leg and one wing permanently damaged."
Vole's nation was washed away. "The giants who lived upstream had struck down a beaver dam. This caused the river to rise up in fury, swamping the fishing boats of the river voles and sweeping both boats and voles downriver, never to be seen again. All except one. Vole."
 Drugs and Alcohol
Language
Many think that Cricket and Firefly are "nuts" or "crazy." For example, when Cricket says he'd like to catch a baseball, someone asks, "Are you nuts?"
At one point, Peter's father says that Firefly is insane.
A cricket is talking about Cricket when he says, "He's weird and he's a pain, but we miss him anyway."
Supernatural
Spiritual Content
An elder asks Firefly, "Did you know that when fireflies get very old, they turn into stars? And what that means is that if the day ever comes when I'm not here, I'll be up in the sky. . .Just remember that," he said. "Remember that one of the stars in the sky will be me, and I'll be watching over you."
After crickets die, they "turn into music and we are everywhere. . .They turned into the sound of the wind, rustling the leaves on the trees. The crunch of an acorn in the fall."
---
"Giants are to be feared. Giants are to be avoided at all costs. Giants are the enemies of the firefly and cricket nation," Fear of Giants Class. –Firefly Hollow