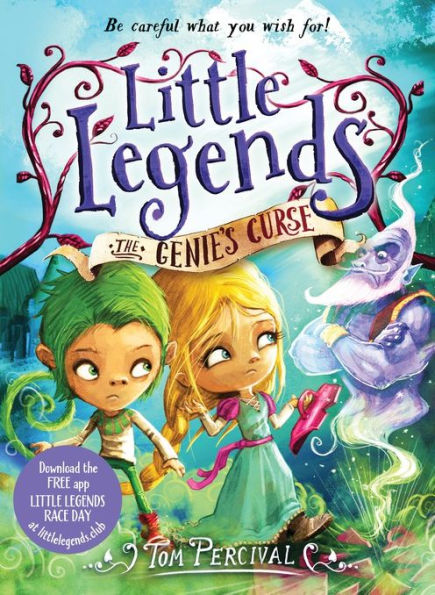 Buy This Book
---
---
"Remind me never to hide in a laundry basket full of dirty socks again," Rapunzel. —The Genie's Curse
The Genie's Curse
Little Legends #3
by Tom Percival
AR Test, Diverse Characters
At A Glance
Interest Level

7+
Entertainment
Score
Reading Level
4.8
Rapunzel loves being a princess because it's so much fun. Disaster strikes when she accidentally breaks a magical urn and blames it on Ella. The urn belonged to a genie, who is now very angry. The genie cast a spell on Rapunzel. Now everyone in Tale Town blames everything on Rapunzel. In order to avoid the angry town people, Rapunzel leaves town. Can a little green monkey called Alphege help Rapunzel? Will Rapunzel lose her new friend, Ella, if she tells the truth behind the curse?
Each book in the series focuses on a different character but continues from plot points in previous books. The Genie's Curse has non-stop action and funny humor. The plot jumps from disaster to disaster, which makes the story interesting, but confusing. The large number of characters and difficult vocabulary make The Genie's Curse a good choice for confident readers. There are several characters that have been cursed and only appear as humans for part of the time; this may cause confusion for some readers.
Rapunzel's parents are absent for most of the book and are more concerned with vacationing than being good rulers. Although the story has a good theme—honesty is the best policy—the ending falls flat. When the queen discovers that Rapunzel lied, she says, "I'm very proud of you, Rapunzel. Your brave words have shown me that there is more to life than being pretty and having lovely things. And to reward you, I shall buy you two new ponies and a party dress!"
Black-and-white pictures help bring the characters and actions to life. The evil villains are not scary, but add suspense to the story. The Genie's Curse is an entertaining story that allows readers to jump into the fairy tale world.
Sexual Content
Violence
Rapunzel accidentally destroys a hermit genie's home. When she lies to her parents about who broke the urn, the genie curses her. He tells Rapunzel, "From now on every single thing that goes wrong in Tale Town will be blamed on. . . YOU!"
A troll tries to cook Alphege in a pot of oil. "The troll held Alphege just above the pot and grinned as he lowered the small green monkey toward the bubbling oil." Alphege turns into a boy and "kicked his legs out and knocked the pot over, splashing oil all over the floor."
Town people chase Rapunzel. The group chases her, "throwing silverware, dishes, bread, cushions, and anything else they could find."
Drugs and Alcohol
Language
Supernatural
Tale Town has a magical tree. "If you ran your finger along the branch, the story would happen inside your head." The tree has a spell of protection, which "means that the only way to trim off a story is using the Sacred Shiny Story-Snipping Shears."
Spells are cast throughout the story. For example, the wicked witch cast, "a spell on Ella that makes her want to fix everything. Someone gives Ella a necklace that makes it so 'no spells or curses will have any effect on her at all!'"
Alphege was cursed so that he looks like a green monkey most of the time. He can "look human for one day every week. . . I can change back and forth as often as I like. . . so long as I'm not a boy for more than twenty-four hours every seven days."
Spiritual Content
---
"Remind me never to hide in a laundry basket full of dirty socks again," Rapunzel. —The Genie's Curse