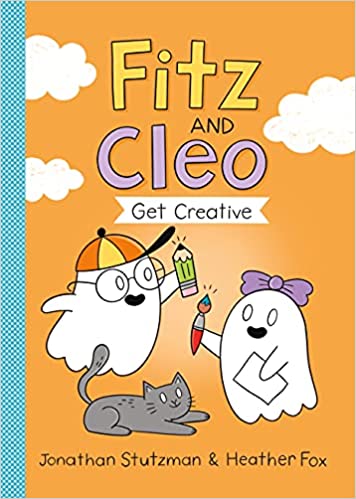 Buy This Book
---
---
"Well, if I ever face a mighty monster or get turned into a rat, I hope you're right by my side," Cleo.

–

Fitz and Cleo Get Creative
Fitz and Cleo Get Creative
by Jonathan Stutzman & Heather Fox
At A Glance
Interest Level

6+
Entertainment
Score
Reading Level
1.3
Cleo is a ghost who loves books. She wants to be like the characters in her books because they have awesome adventures, daring escapes, and epic battles. After watching a movie, she and her ghost brother Fitz decide to make a movie of their own—with their cat Boo's help. First, they must write the movie script, which is really hard. Then they will need a band, artists, and actors. Will Fitz and Cleo be able to put all the pieces together and create movie magic? 
Readers will fall in love with the two ghosts, who are friendly, adorably cute, and make every day an adventure. While some of the events are random—such as finding images in clouds—most of the chapters focus on Fitz and Cleo making a movie. Through their activities, readers will learn about the movie-making process: making sets, sewing costumes, writing a script, and finding actors. Readers will also be introduced to the Rube Goldberg Machine, which is "a complex mechanical device, where one simple action causes another simple action." While things don't always go the way the two ghosts plan, they always encourage each other. 
Readers might miss Boo because he doesn't play a large role; however, this leaves room for three new characters: a vampire, a werewolf, and a fish creature. Adding Fitz's and Cleo's friends adds interest and creates some humor. While all the characters are typically scary creatures, in Fitz and Cleo all the monsters are cute and friendly.  
The siblings' adventures come to life in large, colorful panels similar to a graphic novel's panels. The illustrations use bright colors and simple backgrounds that will appeal to young readers. Although the illustrations are simple, the ghosts' emotions are clearly conveyed. Plus, some of the illustrations are humorous, such as Cleo dressed up like a rock star and Fitz's mishap that makes him all colors of the rainbow. 
Fitz and Cleo's chapters range from five to eleven pages. Each page has two to eight short sentences. Unlike the first book in the series, Fitz and Cleo Get Creative isn't a collection of everyday life. Instead, each chapter relates to the next. While most of the text is easy to read, adults may need to help readers with some of the words such as nigh, nimbostratus, generations, and summon. There are also plenty of silly moments. For example, when Fitz ask Cleo for a pencil, she tells him she doesn't have one. "But I do have this replica Viking battle-ax! You can carve your ideas into stone." 
Fitz and Cleo Get Creative will entertain readers because of the relatable conflicts, the friendly ghosts, and new characters. Even though the story revolves around making a movie, young readers will relate to the siblings, who don't always agree and make mistakes. Even when things don't go as planned, Fitz and Cleo persevere until they reach their goal—making a marvelous movie. Readers who love Fitz and Cleo can find more ghostly friendship fun by reading Eva Sees a Ghost by Rebecca Elliot.  
Sexual Content  
Violence  
Drugs and Alcohol  
Language    
Supernatural 
Spiritual Content  
---
"Well, if I ever face a mighty monster or get turned into a rat, I hope you're right by my side," Cleo.

–

Fitz and Cleo Get Creative