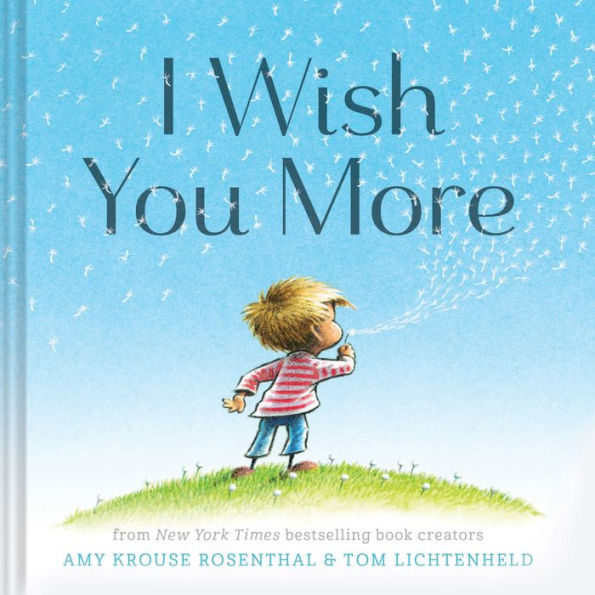 Buy This Book
---
---
"I wish you more stories than stars." –I Wish You More  
I Wish You More
by Amy Krouse Rosenthal
Picture Book
At A Glance
Interest Level

5+
Entertainment
Score
Reading Level
1.3
This is a book about wishes. Every child deserves endless good wishes. Wishes for friends and hugs. Wishes for finding simple treasure by the sea shore and books that you just can't put down. I Wish You More encourages readers to enjoy the simple moments in life.
I Wish You More is a short, sweet picture book that wishes the reader happy times. Each page begins with the phrase "I wish you more. . ." For example, "I wish you more bubbles than baths." While most of the wishes are easily understood, some may confuse younger readers. On one page, a little girl is struggling to tie her shoe; the text says, "I wish you more can than knot." Even though some pages have deeper meanings that younger readers may not understand, they will understand the basic concept that they are being wished something good.
What makes I Wish You More so captivating is the illustrations. The full-color illustrations are beautiful and perfect for each wish. When the author writes, "I wish you more treasure than pockets" the illustration shows a little boy at the seashore. On the sand lay beautiful seashells, but he can't pick any more up because his hands and pockets are full. The illustrations capture each moment by using a diverse group of children. Most children will be able to find someone that looks like them among the illustrations.
Even though I Wish You More is a picture book, it has wide appeal because each wish carries a message of love. I Wish You More would make the perfect book for someone who is graduating, getting married, or having a baby. Both children and adults will love the illustrations and the message. Like The Giving Tree and Oh the Places You Will Go, I Wish You More gives the reader an encouraging message that transcends all ages.
Sexual Content
Violence
 Drugs and Alcohol
Language
Supernatural
Spiritual Content
---
"I wish you more stories than stars." –I Wish You More