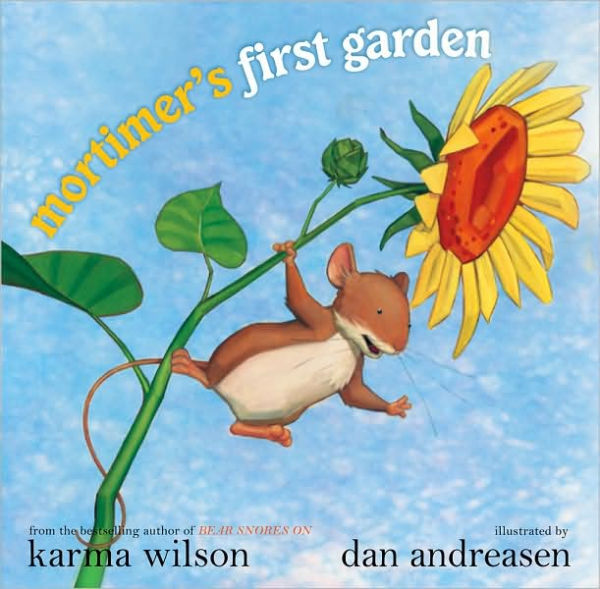 Buy This Book
---
---
"My seed will never grow. How much time do miracles take anyway? If I don't dig up my seed now, it might rot in all this rain," Mortimer. –Mortimer's First Garden
Mortimer's First Garden
by Karma Wilson
AR Test, Picture Book
At A Glance
Interest Level

4 - 8
Entertainment
Score
Reading Level
2.5
Winter is just ending, the sky is gray, and the ground is brown. Little Mortimer Mouse munches on sunflower seeds and longs to see some green.
Upon overhearing the story of how springtime rain and sunshine nurtures little seeds to grow into great big green plants, Mortimer is skeptical, but decides to plant one of his seeds just to see if such a miracle really can happen. Mortimer finds a perfect spot to plant the seed, and then. . . he waits. And waits. And waits.
Impatient, Mortimer thinks nothing is ever going to happen to the little seed. But then something does happen. Something wonderful. Something divine. Something green! Mortimer discovers the miracle of springtime.
Mortimer's First Garden is a wonderful story about discovering the wonders of gardening. As he waits for his sunflower to appear, Mortimer weeds, waters and cares for his growing plant. Through Mortimer's experiences, readers will discover the joy of planting and caring for seeds and the excitement of growing a garden.
Mortimer's environment comes to life in colorful, full-page illustrations. The illustrations are colored with muted spring colors and show the beauty of spring. Readers will fall in love with the little mouse, as he waits for his flower to grow. Readers will relate to Mortimer's impatience, and smile when Mortimer tells God, "I wouldn't mind a friend to help me eat these [seeds]." Just when Mortimer needs it, a friendly spider appears and the two friends snuggle down to sleep. Some readers may wonder why a spider would make a good friend for Mortimer. However, this would be an excellent opportunity to discuss the beneficial qualities of spiders.
Each page of Mortimer's First Garden has 1-6 simple sentences that use repetition, onomatopoeia, and alliteration. The simple story is intended to be read aloud to a child, rather than for the child to read it for the first time independently. Both the text and the pictures combine into an engaging story that highlights the miracle of a seed. Parents who are looking for more books that encourage children to plant a garden should also read We Are the Gardeners by Joanna Gaines.
Sexual Content
Violence
 Drugs and Alcohol
Language
Supernatural
Spiritual Content
Mortimer hears a voice whisper, "Wait." At first, Mortimer doesn't know who spoke. But then, "Mortimer felt warm and protected. Then Mortimer knew the voice. Mortimer bowed his head. 'I will wait, God. But please, make my seed grow.'"
When Mortimer's seed begins to grow, he says, "Thank you, God!"
When Mortimer sees the sunflower, he says, "It is a miracle! Thank you, God!"
After all the seeds have been harvested, Mortimer prays, "And please, God, I wouldn't mind a friend to help me eat these."
---
"My seed will never grow. How much time do miracles take anyway? If I don't dig up my seed now, it might rot in all this rain," Mortimer. –Mortimer's First Garden