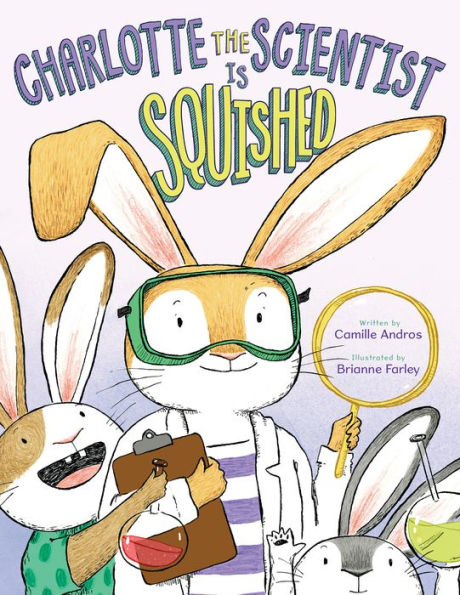 Buy This Book
---
---
"It had become impossible to conduct her experiments. Her test tubes were taken, her beakers got broken, and her specimens were spoiled. Charlotte needed some space." –Charlotte the Scientist Is Squished    
Charlotte the Scientist Is Squished
by Camille Andros
AR Test, Must Read, Picture Book
At A Glance
Interest Level

4 - 7
Entertainment
Score
Reading Level
3.0
Charlotte is a serious scientist. She solves important problems by following the scientific method. She has all the right equipment: protective glasses, a lab coat, a clipboard, and a magnifying glass. But Charlotte has a problem: she needs more room.
Charlotte has so many brothers and sisters (she is a rabbit, after all) that she is too squished to work on her experiments! Can she use science to solve her problem?
Charlotte introduces readers to her 13 brothers and sisters and to the five steps of the scientific method. Charlotte's dilemma comes to life in bright, humorous, full-colored illustrations. Even though each page is packed with adorable bunnies, Charlotte is easy to recognize because she always has on her safety glasses. Readers will enjoy counting all of Charlotte's siblings, who are a bit rambunctious.
Charlotte decides to use the scientific method to answer her question: How can I get some space around here? Readers will giggle as Charlotte conducts her experiments and feel joy when Charlotte finds peace and quiet on the moon. Once there, she discovers that being alone is lonely. But Charlotte's solution to her loneliness brings the story to a sweet conclusion.
Charlotte the Scientist is Squished will entertain and delight young readers who will want to read the book over and over. Charlotte has a relatable conflict and is a determined, funny main character. The story uses humor to introduce readers to the scientific method. However, this science-based book also is a story about her family, who can be annoying but also bring joy to Charlotte.
Each page of the picture book has 1 to 4 sentences. Because some of the sentences and vocabulary are complex, young readers will need an adult to read Charlotte the Scientist Is Squished to them. The end of the book explains how Charlotte followed the scientific method to solve her problem.
Charlotte the Scientist Is Squished is a wonderfully illustrated picture book that young readers will love. Adults will appreciate the story's educational value. Another amazing picture book readers will enjoy is Mars Needs Moms by Berkeley Breathed. Both stories use humor to show the importance of family.
Sexual Content
Violence
 Drugs and Alcohol
Language
Supernatural
Spiritual Content
---
"It had become impossible to conduct her experiments. Her test tubes were taken, her beakers got broken, and her specimens were spoiled. Charlotte needed some space." –Charlotte the Scientist Is Squished