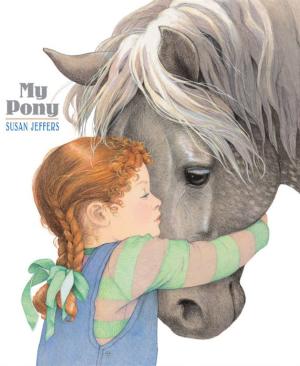 Buy This Book
---
---
"No matter where I go, Silver is with me. We gallop through the cold mountain stream. Together we flash like a comet across the sky". –My Pony                                                                                  
My Pony
by Susan Jeffers
AR Test, Picture Book
At A Glance
Interest Level

3 – 5
Entertainment
Score
Reading Level
2.5
A little girl dreams of owning a horse, but her parents say no. That doesn't stop the little girl from dreaming about having a pony. She begins to draw her horse, who she names Silver. Using her imagination, the girl flies into the night sky, rides through the woods, and races with a herd. Through it all, Silver is always with her.
Anyone who loves horses should read My Pony, which shows that a child can use their imagination to "journey anywhere and do anything—even fly to the stars on her very own pony." Each beautiful illustration includes horses of all kinds, like toys horses, real horses, and the girl's horse drawings. When the girl dreams about horses, the illustrations show the magical places the girl and her horse travel to, such as the woods with trees full of candy. The girl's love for horses is apparent in every picture.
Even though My Pony is a picture book, the story is intended to be read aloud to a child, rather than for the child to read it for the first time independently. Each page has 1 to 5 sentences and a large illustration. The detailed illustrations use soft colors to highlight the girl's love of horses. Readers may want to try to find all of the different horses in each illustration.
Anyone who has had an unfulfilled dream will relate to the girl, who wants her own pony. While the girl's dream of owning a horse does not come true, she is still happy because she can always ride her imaginary horse, Silver. "Silver waits just outside my window. Always."
Sexual Content
Violence
 Drugs and Alcohol
Language
Supernatural
Spiritual Content
---
"No matter where I go, Silver is with me. We gallop through the cold mountain stream. Together we flash like a comet across the sky". –My Pony