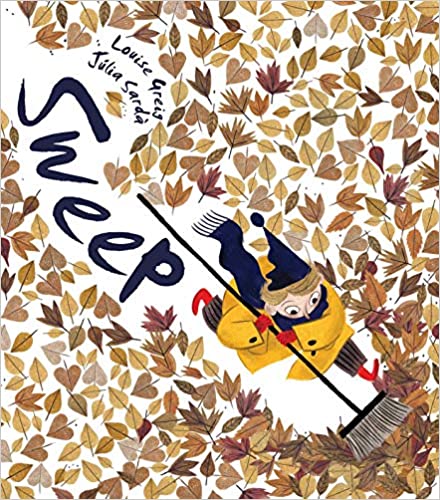 Buy This Book
---
---
"

Ed knew perfectly well when he had gone far enough, but he could not bring himself to say,

Okay, that will do

.

"

—

Sweep

 
Sweep
by Louise Greig
AR Test, Picture Book
At A Glance
Interest Level

4 — 8
Entertainment
Score
Reading Level
2.9
On a windy fall night, a young boy named Ed looks over his town. He has a broom in hand and is standing atop a towering mountain of leaves. The day began with him sweeping leaves, but below his mountain are all the other things he seemed to have collected along the way, including dogs, cats, bicycles, cars, buses, people, and buildings.   
The story of Sweep starts when a single leaf in the wind hits Ed's face, causing him to trip over a broom. This puts Ed in a bad mood, but unlike all the bad moods he's had before, this one grows and grows until he is ragefully sweeping every leaf around him into one large pile. His bad mood convinces him to go on, not accounting for all the animals, vehicles, or people in his way. Ed knows he is taking things too far. He even knows that if he looked up from the ground, he would see all the beautiful balloons, birds, and kites above it. But his bad mood is not satisfied until he has swept up his whole town. 
By the end of the day, there are no flowers left and the birds have stopped singing. Ed is tired, hungry, and questioning if he can really stop sweeping after going through all this trouble. As he ponders this, his bad mood begins to lift and a strong gust of wind picks up every person and thing in his pile. Not only does the wind put everything back to normal, but Ed believes the town looks even better than it did before.  
The wind gently lands a kite in front of Ed, who, finally looking up from the ground, flies it high in the air. He notices the beauty of all the other kites around him. The next time Ed finds himself in a bad mood, he makes sure to think twice and ask himself if there is a way to process it in a more constructive way. 
Sweep is a smart and funny story that teaches a valuable lesson about learning to process your feelings. The book has one to five sentences per page, making it a fast read. Readers of all ages will also enjoy the book's art style, which makes use of bleaker autumn shades such as beige, gray, brown, and crimson during Ed's rampage through his town and uses a wide spectrum of bright, vivid colors when his spirit lifts. The items and characters that amass in Ed's constantly growing pile guarantee a laugh on every page, and the pile's mountainous final form is full of clever gags and details for eagle-eyed readers to spot upon repeated readings. 
Younger readers will relate to Ed's impulse to lash out when he's in a bad mood. Plus, his journey will help them to understand the harmful nature of being negative. By reading Sweep, readers will also learn how to evaluate and express their feelings in a way that is beneficial to themselves and others. Readers who enjoy Sweep should also read Swashby and the Sea by Beth Ferry, a sweet book that shows how one man's grumpy mood changes when he meets an unexpected friend.  
Sexual Content 
Violence 
Drugs and Alcohol 
Language 
Supernatural 
Spiritual Content 
---
"

Ed knew perfectly well when he had gone far enough, but he could not bring himself to say,

Okay, that will do

.

"

—

Sweep