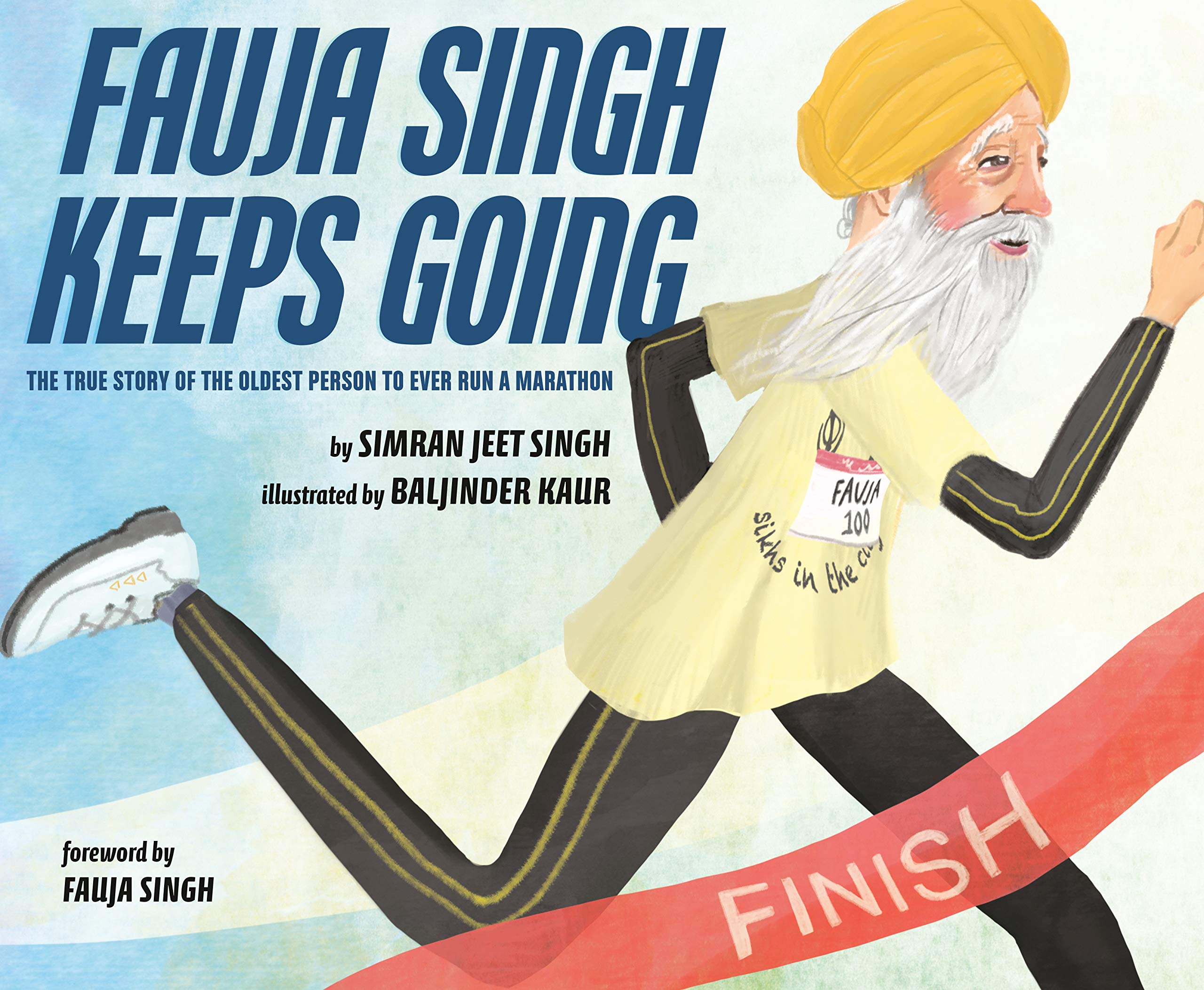 Buy This Book
---
---
"You know yourself, Fauja, and you know what you're capable of. Today is a chance to do your best," Mother. – Fauja Singh Keeps Going
Fauja Singh Keeps Going: The True Story of the Oldest Person to Ever Run a Marathon
by Simran Jeet Singh
AR Test, Picture Book, Teaches About Culture
At A Glance
Interest Level

4 – 8
Entertainment
Score
Reading Level
4.4
Every step forward is a victory.
Fauja Singh was born determined. He was also born with legs that wouldn't allow him to play cricket with his friends or carry him to the school that was miles from his village in Punjab. But that didn't stop him. Working on his family's farm, Fauja grew stronger, determined to meet his full potential.
Fauja never, ever stopped striving. At the age of 81, after a lifetime of making his body, mind, and heart stronger, Fauja decided to run his first marathon. He went on to break records all around the world and to become the first person over 100 years old to complete a marathon.
The picture book begins with a forward by Fauja Singh where he writes about his disability. Despite people teasing him, he never stopped believing in himself. Fauja says, "Doctors couldn't figure out why I had trouble walking as a child, nor could they figure out why I was able to begin walking and, eventually, running. I think of it as a reminder that all of our bodies are different—and so are our experiences with disabilities."
Every reader can benefit from Fauja's story, which highlights the importance of perseverance and determination. Despite his disability, his mother continued to remind him, "You know yourself, Fauja, and you know what you're capable of. Today is a chance to do your best." With every small step, Fauja became stronger and eventually reached each of his goals—to walk, to farm, and to run a marathon.
Fauja's story comes to life with fun, brightly colored illustrations. For example, when Fauja is stretching, a bird perched on his arm does the same stretch alongside him. While most of the illustrations focus on Fauja and his family, illustrations that portray more people show diverse groups. Even though Fauja Singh Keeps Going is a picture book, the story is intended to be read aloud to a child, rather than for the child to read it for the first time independently. Each page has 2 to 7 sentences, and some sentences are complex.
If you're looking for a motivational biography, Fauja Singh Keeps Going is the book for you. Even though Fauja faced hardship and discrimination, he focused on the positive and kept working to achieve his goals. He did not let the negative comments of others bring him down. Instead, "As he ran, Fauja thought about all the things people from his village said he would never do. . . They thought he was too old to run and yet, here he was, running 26.2 miles at the age of 100."
Fauja Singh Keeps Going is a must-read because it shows the power of positive thinking and believing in yourself. In addition, Fauja's story will encourage readers to "try your hardest, and always choose yes when you meet a challenge."
Sexual Content
Violence
When Fauja lived in England, he "learned that some people in the United States were attacking Sikhs for how they looked."
While running a marathon, "someone shouted racist and hateful words at him. Other people joined in. Fauja brushed it off. He knew he had a strong spirit."
 Drugs and Alcohol
Language
Supernatural
Spiritual Content
When Fauja began to walk, "his parents were so happy, they shared prayers of thanks and distributed parshad to the entire village."
At the end of the book, there is a one-page section that gives more information about Fauja and how his religion, Sikhism, affected his life. "Sikhs believe in treating everyone equally, serving others, working hard, and living with honesty and integrity."
---
"You know yourself, Fauja, and you know what you're capable of. Today is a chance to do your best," Mother. – Fauja Singh Keeps Going