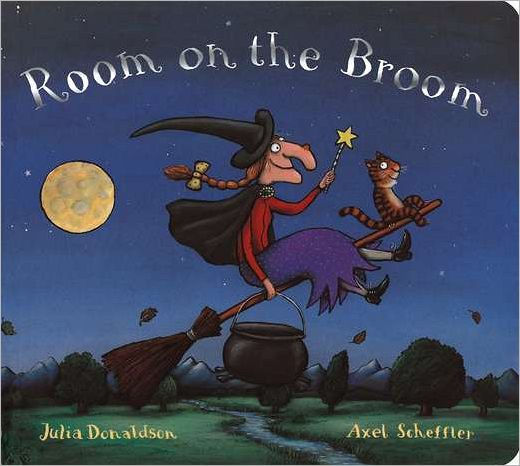 Buy This Book
Buy This Series
---
---
"I'm a bird as green as can be. Is there room on the broom for a bird like me?" Bird. –Room on the Broom
Room on the Broom
by Julia Donaldson 
AR Test, Picture Book
At A Glance
Interest Level

3 - 7
Entertainment
Score
Reading Level
3.7
The witch and her hat couldn't be happier, flying through the night sky on their broomstick—until the wind blows away first the witch's hat, then her bow, then her wand!
Luckily, three helpful animals find the three missing items and all they want in return is a ride on the broomstick. But is there room on the broom for so many new friends? And when disaster strikes, will they be able to save the witch from the clutches of a hungry dragon?
Room on the Broom portrays a witch in a new way. Instead of being scary and evil, the friendly witch happily makes friends with the animals. The witch's adventure comes to life through the large illustrations, which use a dark and dreary day to contrast with the bright animals and the red dragon. Young readers will love each illustration's details, such as a fish jumping out of the river and a bird peeking out of a hole in a tree.
The illustrations are not the only fun aspect of the story. The text uses rhyming, repetition, and imagery that makes Room on the Broom an excellent book to read aloud. The surprising and silly conclusion will leave readers with a smile. In the end, the witch's new friends save her from a dragon. In return, the witch casts a spell to make a new and improved broom that will keep the new friends together for a long time.
Even though Room on the Broom is a picture book, the story is intended to be read aloud to a child, rather than for the child to read it for the first time independently. Each page has 3 to 6 sentences. Even though some pages are text-heavy, the story will keep readers interested until the very end.
Room on the Broom is a great Halloween story that uses humor to teach about kindness and friendship. The silly plot will delight young readers who will want to read the book again and again. For those looking for another unique witch story, The Witch Who Was Afraid of Witches by Alice Low is sure to delight.
Sexual Content
Violence
A dragon threatens to eat the witch. He says, "witch with French fries tastes delicious to me!" The witch's friends save her.
 Drugs and Alcohol
Language
Supernatural
The witch says a spell, "Iggety, ziggety, zaggetry, zoom!" The spell makes a "truly magnificent broom" that has enough seats for all of her friends.
Spiritual Content
---
"I'm a bird as green as can be. Is there room on the broom for a bird like me?" Bird. –Room on the Broom