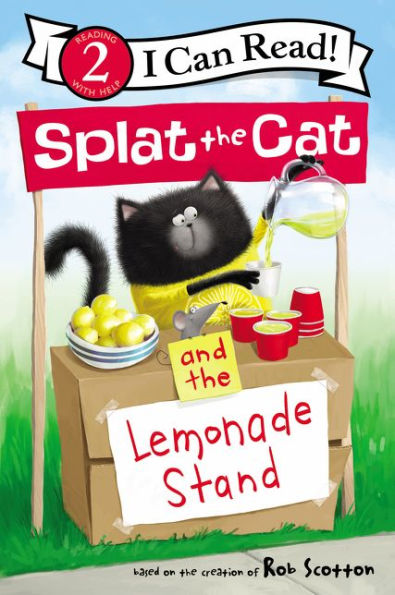 Buy This Book
---
---
"I'm going to the new Super Jumbo Water Park. If I can earn money to pay for half my ticket," Splat. –Splat the Cat and the Lemonade Stand
Splat the Cat and the Lemonade Stand
I Can Read Book 2 Series
by Rob Scotton
AR Test
At A Glance
Interest Level

5+
Entertainment
Score
Reading Level
2.0
School's out, and Splat can't wait to visit the waterpark, but first, he needs to make some money selling lemonade!
Splat opens a lemonade stand to make enough money to buy a ticket to the Super Jump Water Park. But when Spike opens another lemonade stand right across the street, Splat is in for some friendly competition. He's going to have to think fast to beat his rival!
Readers will laugh as Splat and Spike try to outsell each other. Each idea gets more outrageous until Splat and Spike finally realize that they should be working with each other instead of against each other. In the end, Splat and Spike earn enough money to pay for a water park ticket. Scotton weaves an entertaining story that has a realistic conflict, loveable characters, and teaches the importance of cooperation.
Large, full-color illustrations bring the story to life and add humor as well. The illustrations show both Splat and Spikes' facial expressions, which will help younger readers understand the characters' happiness, frustrations, and worries. Readers will also enjoy looking for the rat that appears in many of the pictures.
Splat the Cat and the Lemonade Stand is perfect for beginning readers. The story is designed for readers who can read on their own, but may still need a little help. Each page is illustrated and has four or fewer simple sentences. The cute pictures and the low word count make Splat the Cat and the Lemonade Stand a fun bedtime story. The simple plot, the humorous conflict, and the relatable characters all combine to make Splat the Cat and the Lemonade Stand perfect for beginning readers.
 Sexual Content
Violence
Drugs and Alcohol
Language
Supernatural
Spiritual Content
---
"I'm going to the new Super Jumbo Water Park. If I can earn money to pay for half my ticket," Splat. –Splat the Cat and the Lemonade Stand