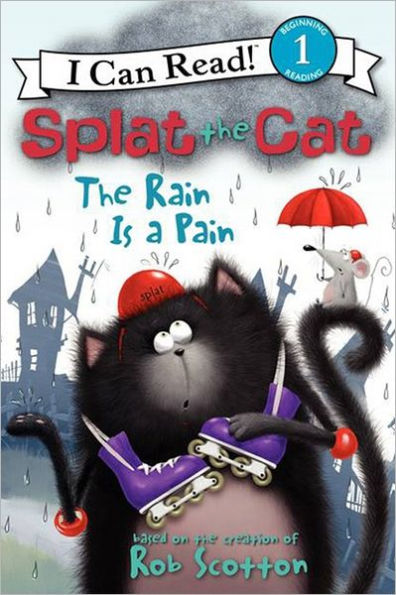 Buy This Book
Buy This Series
---
---
"I can't go out," said Splat. "The rain is a pain!" –The Rain Is a Pain
Splat the Cat: The Rain Is a Pain
I Can Read Book 1 Series
by Rob Scotton
AR Test, Picture Book
At A Glance
Interest Level

4 - 8
Entertainment
Score
Reading Level
1.9
Splat can't wait to try out his brand-new roller skates! When it starts to rain, Splat's sure that his day will be ruined. He's determined to have some skating fun, but everyone keeps scolding him. Isn't there anything fun to do inside?
Younger readers will giggle at Splat's newest adventure. Splat just wants to have some fun, but he keeps making a muddy mess. His mom, dad, and sister keep telling him, "Out, Splat, out!" The repetition is funny and leads to a surprise ending.
Every child will relate to Splat, who doesn't mean to cause problems or make his family mad. Readers will love the bright-colored illustrations that show the muddy mess that Splat leaves behind. Splat's facial expressions show Splat's changing emotions and are at times humorous. Readers will have fun looking for the mouse that appears on almost every page.
Rain Is a Pain is intended for readers who are beginning to sound out words and sentences. Each page has 1-5 simple sentences and large illustrations. The Splat the Cat series uses realistic conflicts, fun illustrations, and a playful cat to engage readers. With nine books in the series, readers will have endless fun following Spat's adventures.
Sexual Content
Violence
 Drugs and Alcohol
Language
Supernatural
Spiritual Content
---
"I can't go out," said Splat. "The rain is a pain!" –The Rain Is a Pain