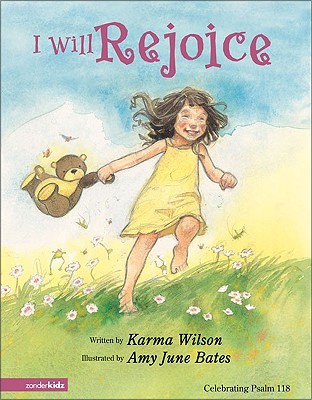 Buy This Book
---
---
"I'll cuddle up close to my trusty, old bear, and give thanks for Jesus as we say our prayers." –I Will Rejoice  
I Will Rejoice
by Karma Wilson
AR Test, Picture Book
At A Glance
Interest Level

5+
Entertainment
Score
Reading Level
2.7
Based on Psalm 118:24, I Will Rejoice teaches how to find joy in each day God has made. We can appreciate the simple, everyday things we do, from a "warm, cozy lap," to being glad "in the evening light." There are lots of reasons to rejoice. The story follows one little girl's day as she plays with a friend, takes a nap, and wrestles.
Beautiful pictures in muted colors illustrate one girl as she goes through her day. The illustration highlights the many people (and the teddy bear) that love the girl. The story focuses on small delights such as being able to play, snuggle, and listen to a story. I Will Rejoice will help young readers appreciate the many simple blessings they receive each day.
Each page has a rhyming couplet and most pages begin with, "I will rejoice. . ." The repetition and rhyming that appear in each short sentence, make I Will Rejoice the perfect book to read aloud. Each page contains 1-4 sentences. Even though I Will Rejoice is a picture book, the story is intended to be read aloud to a child, rather than for a child to read it for the first time independently.
I Will Rejoice combines beautiful pictures and poetry to create a picture of all of God's blessings.
Sexual Content
Violence
 Drugs and Alcohol
Language
Supernatural
Spiritual Content
I Will Rejoice focuses on celebrating Psalm 118: "This is the day the Lord has made, and I will rejoice and be glad in it."
---
"I'll cuddle up close to my trusty, old bear, and give thanks for Jesus as we say our prayers." –I Will Rejoice