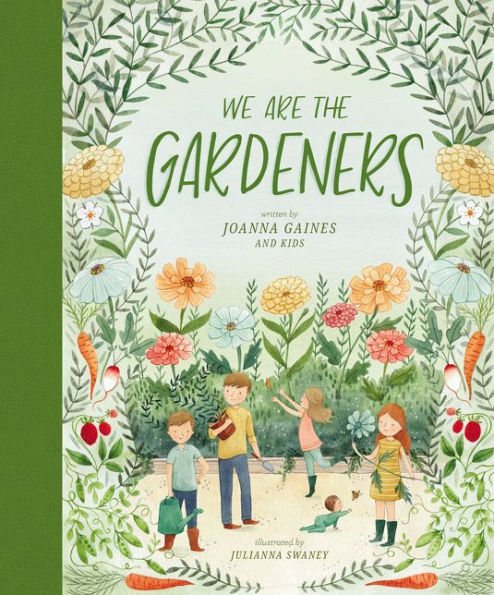 Buy This Book
---
---
"A garden is hard work, but so is most of the good, important stuff in life." –We Are the Gardeners
We Are the Gardeners
by Joanna Gaines
AR Test, Picture Book
At A Glance
Interest Level

5 - 8
Entertainment
Score
Reading Level
4.6
In We Are the Gardeners, Joanna, and the kids chronicle the adventures of starting their own family garden. From their failed endeavors, obstacles to overcome (bunnies that eat everything!), and all the knowledge they've gained along the way, the Gaines family shares how they learned to grow a happy, successful garden. As it turns out, trying something new isn't always easy, but the hardest work often yields the greatest reward. There are always new lessons to be learned in the garden!
Told through both text and words, We Are the Gardeners shows the steps to becoming a successful gardener. The full-page illustrations burst with all the colors of the garden, from the bright red of tomatoes to all the greens of the plants. The illustrations are beautiful and show the joys of gardening—digging in the dirt, picking seeds, and taking time to splash in the sprinkler. Readers will enjoy seeing children helping by watering plants, weeding, and eating the fruits of their labor.
The cheerful story doesn't only focus on all of the positive aspects of gardening. Instead, the story also shows the failures, including a dying plant and animals feasting. However, the failures are shown as learning experiences. When a plant dies, the text reads, "Some people tell themselves they are no good at something after one small failure. But no chance were we going to give up that easy."
Readers will learn where to put a garden, the importance of pollinators, how to identify beneficial and harmful bugs, and more. However, We Are the Gardeners also teaches important life lessons, such as using books to learn, making a plan, and "every setback and failure teaches us something."
Even though We Are the Gardeners is a picture book, the story is intended to be read aloud to a child, rather than for a child to read it for the first time independently. Most pages contain 1 to 3 complex sentences and some difficult vocabulary. However, We Are the Gardeners would make a perfect springtime story to read to younger children. We Are the Gardeners will inspire readers to find the perfect place to put a potted plant or make a garden of their own.
Sexual Content
Violence
 Drugs and Alcohol
Language
Supernatural
Spiritual Content
---
"A garden is hard work, but so is most of the good, important stuff in life." –We Are the Gardeners