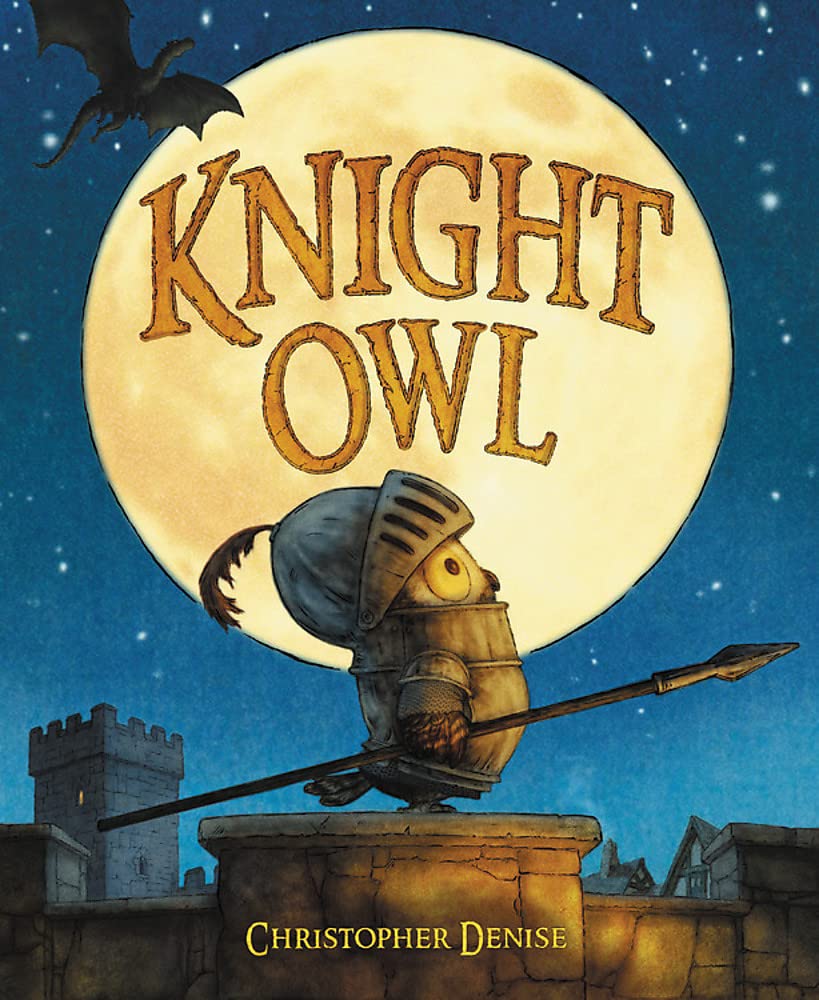 Buy This Book
---
---
"You don't look like a knight," said the dragon. "You look like a midnight snack. "–Knight Owl
Knight Owl
by Christopher Denise
Picture Book
At A Glance
Interest Level

5 – 8
Entertainment
Score
Reading Level
2.3
Since the day he hatched, Owl has dreamed of becoming a real knight. He may not be the biggest or the strongest, but he believes that his sharp nocturnal instincts can help protect the castle, especially since many knights have recently gone missing. While holding guard during Knight Night Watch, Owl is faced with the ultimate trial—a frightening intruder. It's a daunting duel by any measure. But what Owl lacks in size, he makes up for in good ideas.
Owl's story comes to life in beautifully detailed illustrations that are shades of brown and blue. Owl's small size is shown when he is working with the other knights, when he needs a ladder to see over the castle wall, and when a dragon towers over him. Despite his size, Owl reminds himself that he is a knight and knights are brave. When the dragon first appears, his face takes up an entire page, which allows his scales, angry eyes, and large teeth to pop off the page. Even though the dragon is frightening, Owl finds a way to connect to the dragon. Soon the two are talking about "how each of them had hatched from eggs [and] how much they liked the night."
The story incorporates humorous wordplay. It also shows how Owl's owlish traits help him be a good knight. For example, "the other knights usually fell asleep during the long Knight Night Watch, but Owl didn't mind." The illustrations also have fun elements such as the huge dragon reclining on the castle wall while enjoying a pizza.
Even though Knight Owl is a picture book, the story is intended to be read aloud to a child, rather than for the child to read it for the first time independently. Each page has 1 to 4 sentences. The story's word play and onomatopoeia make Knight Owl a fun book to read aloud.
Young readers who dream of dragons and knights will fall in love with Owl. The relationship between Owl and the dragon is endearing and it teaches the importance of not making assumptions based on how someone looks. Once Owl and the dragon talk, they discover "they really had a lot in common." Owl doesn't save the day by using his strength or a sword, but by being brave enough to befriend the dragon. Readers who love dragons should also read When Dragons are Dreaming by James Mayhew & Lindsey Gardiner. Readers ready for chapter books should read Roland Wright: Future Knight by Tony Davis.
Sexual Content
Violence
It is implied that the dragon ate some of the knights.
 Drugs and Alcohol
Language
Supernatural
Spiritual Content
---
"You don't look like a knight," said the dragon. "You look like a midnight snack. "–Knight Owl