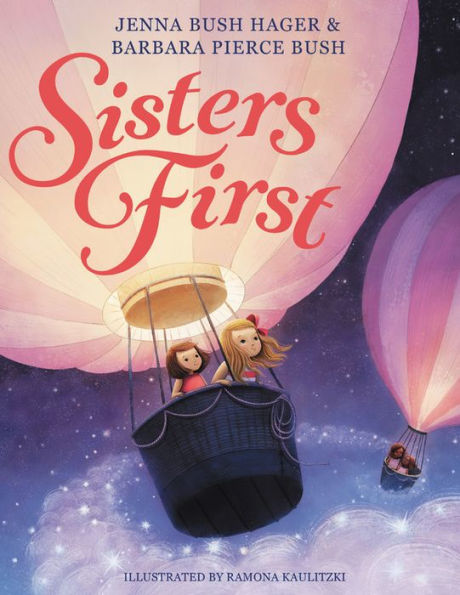 Buy This Book
---
---
"With you by my side, I'm braver than before. You love me for me and hold my hand when unsure. Monsters are still scary, and I still fall down, but your sweet, loving presence turns my bad days around." –Sisters First
Sisters First
by Jenna Bush Hager & Barbara Pierce Bush 
AR Test, Must Read
At A Glance
Interest Level

4 - 8
Entertainment
Score
Reading Level
4.0
A young girl's wish is granted when a new sister arrives. However, the baby can't do much. When the little girl's sister finally arrives, she's surprised that "you cried and you ate, but not much more. (My baby sister was a bit of a snore.)"
Over time the big and little siblings become inseparable, playing and dancing, imagining and laughing. By each other's side, they are smarter, kinder, and braver than they ever thought they could be. And they are forever sisters first.
This exquisite celebration of the bond between sisters is inspired by the spirited childhood of Jenna Bush Hager and Barbara Pierce Bush, authors of Sisters First: Stories from Our Wild and Wonderful Life.
 Sisters First uses beautiful, imaginative illustrations to show the bond between three sets of sisters. The illustrations have some fun details, such as two sisters and their dog wearing masks while they "break" into the cookie jar. The illustrations perfectly match the text's words which help bring the sisters' imaginations into focus. For example, as two sisters pretend to be "cat pirates sailing across the rough sea," the sisters are dressed in cat pajamas sailing on a pirate ship with a purple and white sail.
Whether the sisters are pretending to be mermaids riding alligators or wearing high heels to become president and VP, the sister are always kind and support each other. The girls' adventures are shown in full-page illustrations that use bright colors and fun details that younger readers will want to look at again and again. Each two-page spread has one to five sentences. Even though Sisters First is a picture book, the story is intended to be read aloud to a child rather than for a child to read it for the first time independently.
Sisters First is a must-read because it will empower little girls to be kind and supportive. It doesn't matter if you're flying through space with your stuffed animals or baking cookies, it is important to remember this prayer: "Please make us kind, with enormous hearts, clever too, and very smart. With soft hands to hold and warm arms to hug, and gentle eyes that show deep love. Accepting and patient, yet strong in our views, hopeful and joyful in all that we do. And through many days, the best and the worst, help us remember we are sisters first."
Sexual Content
Violence
 Drugs and Alcohol
Language
Supernatural
Spiritual Content
When a little girl is lonely and wants a sister, she "said a prayer as I pictured your face. Please make her kind, with an enormous heart, clever too, and very smart. With soft hands to hold and warm arms to hug and gentle eyes that show deep love."
---
"With you by my side, I'm braver than before. You love me for me and hold my hand when unsure. Monsters are still scary, and I still fall down, but your sweet, loving presence turns my bad days around." –Sisters First