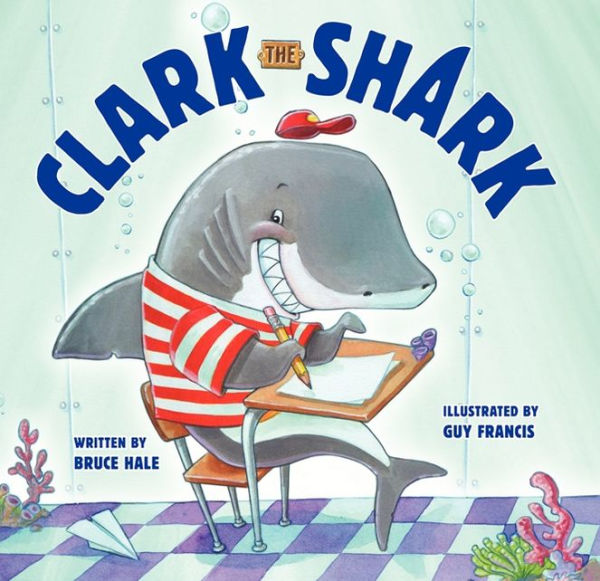 Buy This Book
---
---
"At recess, Clark tried to stay cool, but he pushed the swing with too much zing!" –Clark the Shark  
Clark the Shark
by Bruce Hale 
AR Test, Picture Book
At A Glance
Interest Level

5 – 8
Entertainment
Score
Reading Level
2.7
Clark is a shark with zing, bang, and BOOM. Clark zooms into school, crashes through the classroom, and is rowdy at recess. Clark loves life and always means well—but when his enthusiasm is too much for his friends, Clark's teacher (Mrs. Inkydink) helps him figure out a way to tone it down.
Clark the Shark celebrates boisterous enthusiasm—and knowing when it's time for indoor voices! The picture book is fun to read aloud because it uses rhyming, alliteration, and fun wordplay such as when Clark makes up a new game called "tail-whump-a-lumpus." Another positive aspect of the story is that when Clark has a hard time remembering the rules, he turns the rules into a rhyme. "In class, when lessons got exciting, Clark wanted to bounce up out of his seat. Instead, he told himself: 'When teacher's talking, don't go walking.'"
Clark's struggle to "stay cool" comes to life in bright, full-page illustrations that show Clark and an array of other classmates—a fish, a crab, a jellyfish, and an octopus. The sea creatures are adorably cute as they take on human characteristics such as wearing clothes, reading books, and sitting at a desks. One fish even wears glasses! Clark's facial expressions are sometimes silly, but they show the shark's wide range of emotions.
Each page of the picture book has 1 to 7 sentences. Some of the text is large and bold to illustrate the idea that Clark is yelling. Even though Clark the Shark is a picture book, the story is intended to be read aloud to a child, rather than for the child to read it for the first time independently.
Get ready to use silly voices as you read Clark the Shark to your little reader. The book is a perfect introduction to going to school and following the rules, which include staying still during class, not yelling, being gentle with your classmates, and not munching a bunch of your classmates' lunches. Clark the Shark uses humor to teach readers about controlling their impulses. If you are looking for picture books that use sharks to teach about friendship, you should also add The Pout-Pout Fish and the Bully-Bully Shark by Deborah Diesen and Shawn Loves Sharks by Curtis Manley to your reading list.
Sexual Content
Violence
 Drugs and Alcohol
Language
Supernatural
Spiritual Content
---
"At recess, Clark tried to stay cool, but he pushed the swing with too much zing!" –Clark the Shark