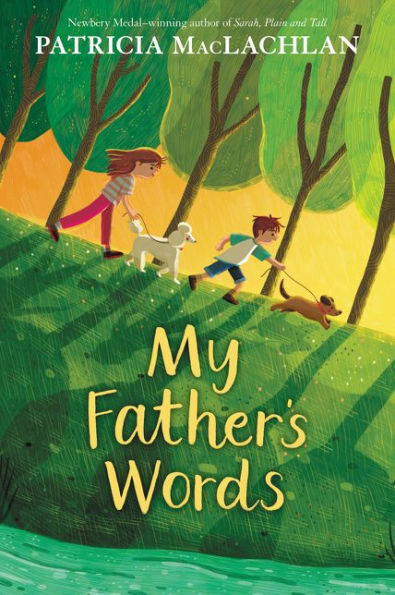 Buy This Book
---
---
"The truth is that we know the dogs need people. But people need the dogs even more sometimes. To teach people how good they really can be," Marth. —My Father's Words
My Father's Words
by Patricia MacLachlan
AR Test
At A Glance
Interest Level

8+
Entertainment
Score
Reading Level
3.3
A terrible accident takes the life of Fiona and Finn's father. Lost in grief, a friend suggests Fiona and Finn volunteer at an animal shelter. They meet two dogs that need their comfort. As Fiona and Finn help the dogs, they reflect on their father's words.
Beautifully written, My Father's Words will captivate readers from the beginning. Being told from Fiona's point of view allows the story to focus on the family's grief and how each member of the family responds differently to grief. Fiona worries that her brother has lost his ability to laugh. Introducing the two shelter animals adds heart as well as a little bit of humor.
Fiona and Finn's father's caring attitude and wisdom come through as Fiona and Finn think about his actions and words. Finn struggles with whom to blame for the accident that killed his father, but in the end, he realizes, "I can't blame her anymore. I can't blame her little boy. And I can't blame my father." Finn comes to accept that his father's death was an accident, and no one was at fault. The story imparts another lesson when Fiona recalls how her father taught her that when a problem can't be solved, you need to be able to let go.
The two siblings face varied emotions—love, anger, blame, and concern for others. As they process their emotions, they learn the importance of helping others. One of Duncan's patients, Thomas, helps Fiona with her own grief; through their phone calls Fiona reexamines her belief that Thomas was a "nut case."
Simple words, short sentences, dialogue, and short paragraphs—many are only one sentence—make the story accessible to younger children. However, because of the topic of death, My Father's Words would be a good book to read with an adult, who can understand the emotional impact of losing a parent. Anyone, regardless of age, would benefit from reading My Father's Words since it shows how a loved one is never truly gone. This emotionally engaging story will leave readers in tears, but also with the feeling of hope.
Sexual Content
Violence
Drugs and Alcohol
Declan's will said that he wanted people to "eat cake, drink champagne, and play basketball" at his funeral.
Language
Fiona thinks that one of her father's patients is a "nut case." Once her father heard her call someone a "nut case" and he "talked to me about the dignity of people."
Supernatural
Spiritual Content
---
"The truth is that we know the dogs need people. But people need the dogs even more sometimes. To teach people how good they really can be," Marth. —My Father's Words