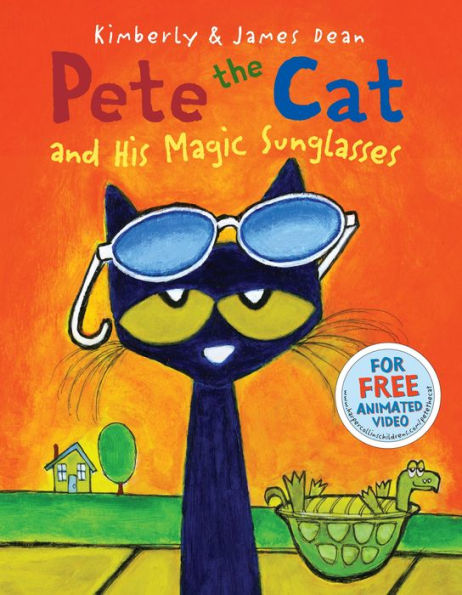 Buy This Book
Buy This Series
---
---
"These cool, blue, magic sunglasses make the blues go away. They help you see things in a whole new way," Grumpy Toad. –Pete the Cat and His Magic Sunglasses
Pete the Cat and His Magic Sunglasses
by Kimberly & James Dean
AR Test, Picture Book
At A Glance
Interest Level

4 - 8
Entertainment
Score
Reading Level
2.2
In this hardcover picture book, Pete the Cat wakes up feeling grumpy—nothing seems to be going his way. But with the help of some rockin' magic sunglasses, Pete learns that a good mood has been inside him all along. Groove and move with Pete as he helps Squirrel, Turtle, and Alligator discover that the sun is shining and everything's alright.
The bright pictures will capture young reader's attention, but they will keep flipping the book's pages because of the funny text. The repetitious text shows how the animals' mood changes from frustrated, mad, and sad to happy. In the end, Owl tells Pete, "Pete, you don't need magic sunglasses to see things in a new way. Just remember to look for the good in every day." The silly story uses a fun refrain to show how a person's attitude can affect how they feel.
Pete the Cat and His Magic Sunglasses is intended to be read aloud to a child, rather than for the child to read it for the first time independently. Each page of the picture book has 1-5 simple sentences. The text uses a variety of sizes and colors to make the words pop off the page. The colorful art, the repetitive, fun text, and the positive message make Pete the Cat and His Magic Sunglasses a fun choice for young readers.
Sexual Content
Violence
Drugs and Alcohol
Language
Supernatural
Spiritual Content
---
"These cool, blue, magic sunglasses make the blues go away. They help you see things in a whole new way," Grumpy Toad. –Pete the Cat and His Magic Sunglasses