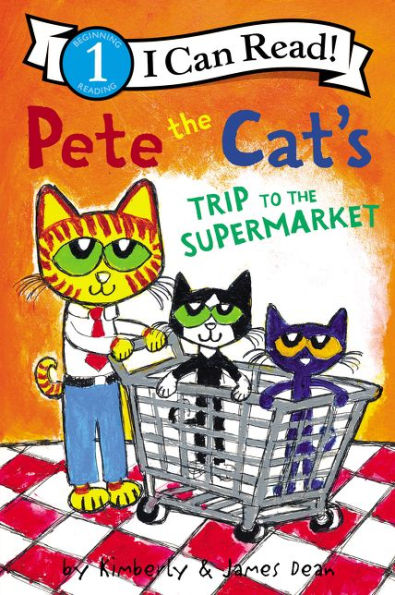 Buy This Book
---
Pete the Cat's Trip to the Supermarket
I Can Read Book 1 Series
by Kimberly & James Dean
AR Test, Picture Book
At A Glance
Interest Level

4 - 8
Entertainment
Score
Reading Level
1.7
Along with his dad and brother, Pete the Cat heads off to the supermarket. But what happens when Dad loses the grocery list before they even get there? It's up to Pete and Bob to help remind Dad what was on their list!
Pete and his brother help with the grocery shopping, but they don't just get what they need. Soon the cart is full of groceries that include dinosaur eggs, cupcakes, popcorn, popsicles, and even flowers for Grandma.
Pete the Cat's Trip to the Supermarket has a simple plot suited for a young audience. The story shows Pete's family going through the grocery store aisles. The story lacks adventure and conflict, and instead focuses on what each character adds to the grocery cart.
Each page has large, colorful illustrations. Readers will want to take their time looking at the pictures to find some surprises. For example, a frog is passing out free samples of hot dogs and the egg freezer has dragon, ostrich, frog, and chicken eggs.
Pete the Cat's Trip to the Supermarket is intended to be read by beginning readers. The story contains sight words and will allow children to sound out words and sentences. The short sentences and the simple plot is best suited for younger readers. As Pete and his family load up their grocery cart, parents may want to discuss food choices. The story would be a perfect conversation starter about healthy eating choices. Children will love the brightly colored illustrations, and the story encourages readers to sound out new words.
Sexual Content
Violence
Drugs and Alcohol
Language
Supernatural
Spiritual Content