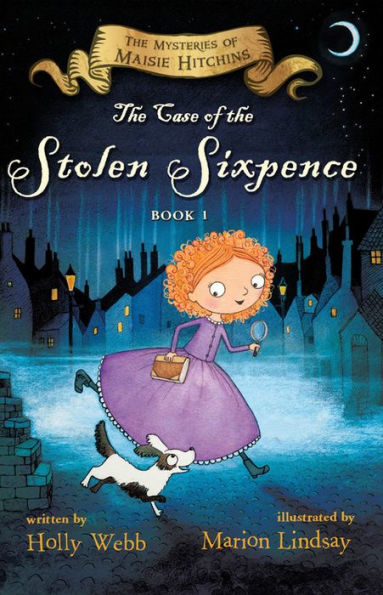 Buy This Book
Buy This Series
---
---
Maisie "slipped her hand into her pocket and patted her magnifying glass. She might not have used it to look for real clues yet, but just having it made her feel like a proper detective. It gave her confidence." –The Case of the Stolen Sixpence  
The Case of the Stolen Sixpence
The Mysteries of Maisie Hitchins #1
by Holly Webb
AR Test
At A Glance
Interest Level

8+
Entertainment
Score
Reading Level
4.8
Twelve-year-old Maisie is a noticing sort of person. That's why she is convinced she would make an excellent detective if she ever got the chance! But instead of detecting, she spends her days polishing the banisters at her grandmother's boarding house or fetching fish for the lodgers' dinner. Maisie is willing to bet that her idol, the great detective Gilbert Carrington, never fetches his own fish.
Maisie's chance comes when she notices a wriggling sack discarded in an alley—with a half-drowned puppy inside! Who would try to get rid of a sweet little dog? The mystery becomes her very first case. When Maisie's friend George is accused of stealing coins from the butcher shop where he works, she finds herself with a proper crime to solve. While she spends less time peeling potatoes and more time searching for evidence, the clues pile up—and so do Gran's questions about where she's always running off to. Can Maisie find the culprit in her new canine assistant's would-be drowning, clear George's name, and keep up with her chores?
When Maisie finds a half-drowned dog, Eddie, Maisie has to convince Gran to allow her to keep the dog. With the help of one of the boarders, Maisie shows Gran that Eddie is useful to have around. Readers will giggle as Maisie and the boarder work together and come up with a creative solution that allows Eddie to stay.
While Eddie often gets into some humorous trouble, he also leads Maisie to befriend George. When George gets fired, Maisie promises to prove that he isn't a thief. With a boarder's help, Maisie disguises herself so she can investigate. While Maisie sneaks around looking for clues, she uses her powers of observation to solve the mystery. The mystery is solved in an entertaining way that leads Maisie into some interesting situations.
Maisie is spunky, observant, and willing to don a disguise to solve a mystery. Maisie's grandmother, the maid, and the other boarders are not well-developed, but they add interest and suspense to the story.
The detective story has an easy-to-follow plot. However, some readers may need help understanding some of the vocabulary since Maisie and the other characters use old-fashioned vocabulary such as scullery, sniggering, dithered, and reproachful
The Case of the Stolen Sixpence has an interesting mystery, a determined main character, and a mischievous dog. Black and white pictures will help readers visualize the story's action, and they also break up the text into manageable blocks. The advanced vocabulary and sentence structure make The Case of the Stolen Sixpence best for proficient readers. However, the story would be fun to read aloud to younger readers. Mystery lovers who aren't ready for Maisie's mysteries should grab a magnifying glass and the Hilde Cracks the Case Series by Hilde Lysiak. Proficient readers who desire more illustrated mysteries will want to travel back in time with the Time Jumpers Series by Wendy Mass.
Sexual Content
Violence
Maisie admires a detective, Gilbert Carrington, because he "managed to solve a murder once just from an ear sent by the penny post in a small brown paper parcel."
Maisie finds a puppy in a sack. She thinks that someone was trying to drown the puppy by putting him in a sack and throwing him in a river.
A boy tries to kick Maisie's dog.
When Maisie asked a boy named Reg some questions, he "put one meaty hand out and shoved Maisie at the door. She banged into the wooden frame, and clutched her shoulder…Reg tried to kick the little dog away, cursing, and Maisie screamed…"
 Drugs and Alcohol
Language
One of the boarders at Maisie's house is named Sidebotham. "Maisie couldn't help sniggering whenever the governess's name was mentioned. It sounded exactly like Sidebottom, and Miss Sidebotham's rear end was rather enormous."
When Maisie asks a boy about George, he sneered, "Sweet on him, was yer? Get off, nasty little beggar."
"Drat," is used three times. For example, someone calls George a "dratted boy."
A man calls Maisie a "stupid little brat!"
Someone tells Maisie, "Sally's mother. She's a right old witch."
Supernatural
Spiritual Content
---
Maisie "slipped her hand into her pocket and patted her magnifying glass. She might not have used it to look for real clues yet, but just having it made her feel like a proper detective. It gave her confidence." –The Case of the Stolen Sixpence