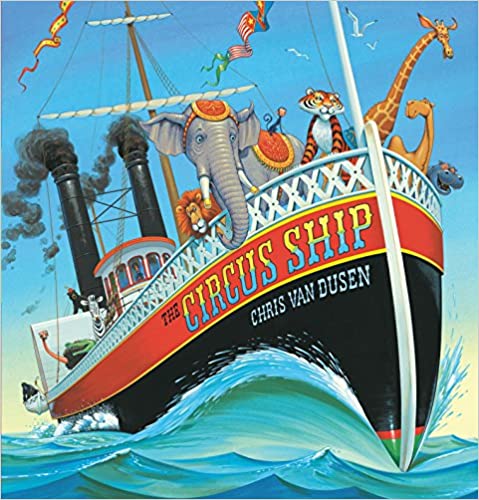 Buy This Book
---
---
"

The tiger's risky rescue changed everybody's mind—the animals weren't bothersome; the animals were kind."

–

The Circus Ship
The Circus Ship
by Chris Van Dusen
AR Test
At A Glance
Interest Level

5-8
Entertainment
Score
Reading Level
3.7
When a circus ship runs aground off the coast of Maine, the circus animals stagger to the shore of a small island. At first the townspeople view them with suspicion, but it's not long before the locals and animals are sharing the island in harmony. Then, when the greedy circus owner returns, the townsfolk and the circus refugees come up with a delightfully original way to outsmart the fiend, exacting hilarious revenge in the process. 
The Circus Ship uses wonderfully expressive caricatures that evoke the early nineteenth century. Young readers will love the humorous illustrations. For instance, when a man sees an alligator sleeping on his wood pile, he jumps into the air and pulls his hair. When the circus master comes looking for the animals, readers will have fun finding all the hidden animals. Many of the animals are disguised in silly ways, such as one woman who is wearing a snake as a scarf and has a monkey in a stroller. 
Even though The Circus Ship is a picture book, the story is intended to be read aloud to a child, rather than for the child to read it for the first time independently. Each page has eight to twelve rhyming lines. The story uses complex sentence structure and some difficult vocabulary words such as menagerie, tuckered out, and bothersome. Despite this, the story's plot is easy to follow.  
Not only is The Circus Ship highly entertaining, but the illustrations are also wonderful as well. Plus, the story has a positive message about not judging others (in this case, animals) by their appearance. Anyone, young or old, who loves animals will enjoy The Circus Ship. If you're looking for a silly picture book that young readers will want to read again and again, The Circus Ship is the book for you. For more stories with silly shenanigans with animals, check out the Mercy Watson Series by Kate DiCamillo. 
Sexual Content  
Violence  
The boat hits a rock. "Then came a CRASH! An awful BASH! Things flew into the air! . . . The splashing, thrashing animals swam round and round and round." The animals swim to the island. 

 

A little girl gets caught inside a burning building. The tiger "ran past all the people, and he leapt into the blaze." The girl comes out of the fire unharmed and riding on the tiger's back.
Drugs and Alcohol  
Language    
Supernatural 
Spiritual Content  
---
"

The tiger's risky rescue changed everybody's mind—the animals weren't bothersome; the animals were kind."

–

The Circus Ship