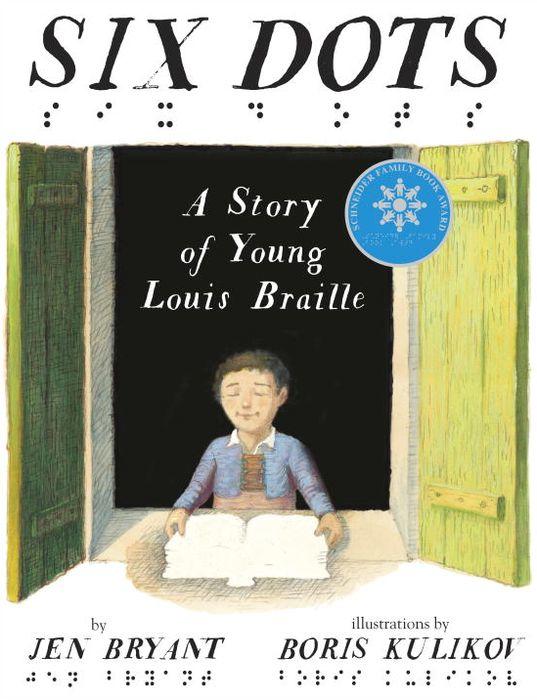 Buy This Book
---
---
"Without books, I would always be 'poor Louis Braille.' I would always be held back, like that dog chained too tight," Louis Braille. –Six Dots  
Six Dots: A Story of Young Louis Braille
by Jen Bryant
AR Test, Picture Book
At A Glance
Interest Level

5—8
Entertainment
Score
Reading Level
3.3
Louis Braille was just five years old when he lost his sight. He was a clever boy, determined to live like everyone else, and what he wanted more than anything was to be able to read.
Even at the school for the blind in Paris, there were no books for him. So, he invented his own alphabet—a whole new system for writing that could be read by touch. A system so ingenious that it is still used by the blind community today.
When Louis first went blind, he felt like "the neighbor's angry dog, chained too tight. Alone in the dark." However, his family and people in his community taught him how to navigate in his dark world. For example, "the village priest taught me to recognize trees by their touch, flowers by their scent, and birds by their song."
One pivotal moment in Louis's life was when he went to school with other blind students. The children at the school were excited when "a French army captain had invented a code to send secret messages during battle. The code is read by touch, not by sight, so we might use it here." This code gave Louis the inspiration to create his own system, where each letter was represented by dots that fit under a finger. Louis's invention continues to have a lasting and profound impact on people today.
Six Dots educates readers about Louis Braille and gives them an idea of how it feels to be blind. While the story is interesting, the text-heavy pages and complicated cause and effect of events will be difficult for younger readers to sit through. Each page has 4 to 12 sentences. The realistic illustrations are drawn in shades of brown with light blues and greens. The book ends with one page written in a question-and-answer format that explains more about Louis. In addition, there is a list of resources to learn more about Louis and about using braille.
Six Dots is an entertaining and educational story that packs a lot of information into a short space. Louis Braille's story demonstrates how one's disability does not have to control your life. Despite being blind, Braille went on to master the cello and the organ, both of which he played professionally. He also was a history professor and published books on music, mathematics, and mapping. Six Dots would be an excellent resource to use for readers who want to research Louis Braille. Readers looking for another motivational picture book about a real person should read The Girl Who Thought in Pictures by Julia Finley Mosca.
Sexual Content
Violence
Louis became blind after he accidentally poked his eye with an awl and both eyes become infected.
 Drugs and Alcohol
Language
Supernatural
Spiritual Content
---
"Without books, I would always be 'poor Louis Braille.' I would always be held back, like that dog chained too tight," Louis Braille. –Six Dots