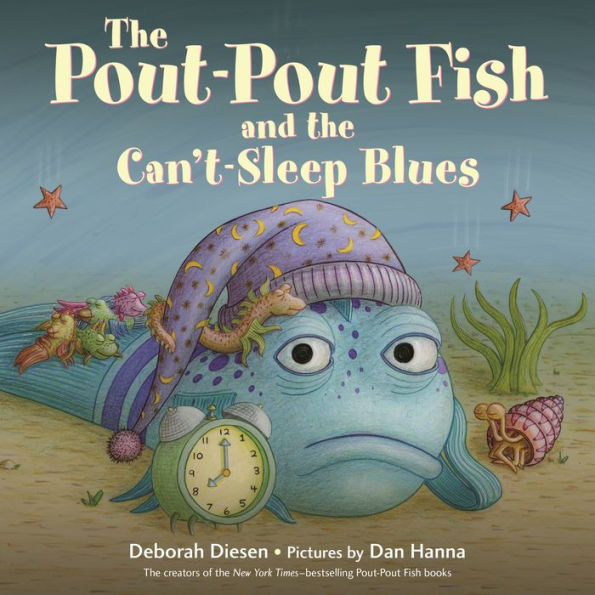 Buy This Book
---
---
"But take what you've been given, And learn from what you've tried. Then build your own solution: Trust yourself as guide," Miss Shimmer. –The Pout-Pout Fish and the Can't Sleep Blues
The Pout-Pout Fish and the Can't-Sleep Blues
Pout-Pout Fish Adventure
by Deborah Diesen
AR Test, Picture Book
At A Glance
Interest Level

5 - 7
Entertainment
Score
Reading Level
3.0
Mr. Fish can't get to sleep, so he goes to ask his underwater friends for some advice. Even though his friends explain their bedtime, the routine doesn't help Mr. Fish sleep. Miss Shimmer comes to the rescue. She helps Mr. Fish see that different routines work for different creatures. Mr. Fish takes what he learned and creates a routine that works best for him. In the end, the frustrated fish falls fast asleep.
The picture book, The Pout-Pout Fish and the Can't Sleep Blues uses beautiful, colorful illustrations to bring Mr. Fish's underwater world alive. The Pout-Pout Fish incorporates humor into the story. When each sea creature gives advice on how to sleep, Mr. Fish tries the method, but it doesn't work for him. However, when he looks over, his friend is snoozing away. Mr. Fish learns that not all advice can be used because everyone's needs are different.
Younger readers will enjoy the story and will want to look at the pictures over and over. The colorful illustrations even show one fish getting its teeth flossed as well as a sea creature counting fish-sheep. The rhyming text and short sentences (four sentences on each page) make The Pout-Pout Fish and the Can't Sleep Blues a perfect bedtime story. Any child who has trouble falling asleep should read about Mr. Fish's can't sleep blues, which will help them think about creating a bedtime routine that works.
Sexual Content
Violence
Drugs and Alcohol
Language
Supernatural
Spiritual Content
---
"But take what you've been given, And learn from what you've tried. Then build your own solution: Trust yourself as guide," Miss Shimmer. –The Pout-Pout Fish and the Can't Sleep Blues