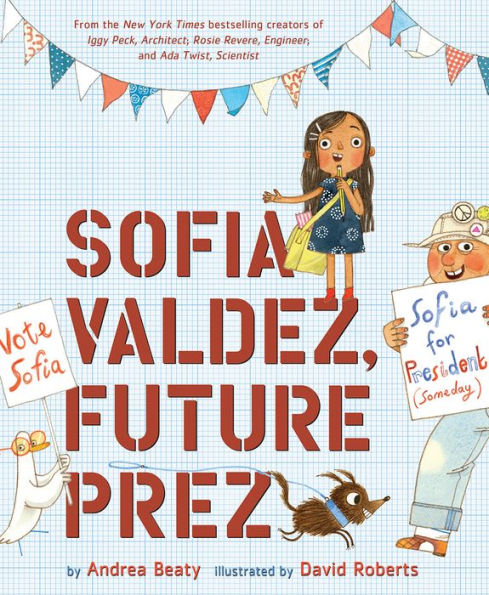 Buy This Book
---
---
"And that was the moment when Sofia first knew being brave means doing the thing you must do, through your heart cracks with fear," Sofia. –Sofia Valdez, Future Prez
Sofia Valdez, Future Prez
by Andrea Beaty
AR Test, Picture Book
At A Glance
Interest Level

5 - 8
Entertainment
Score
Reading Level
3.7
Every morning, Abuelo walks Sofia to school . . . until one day Abuelo hurts his ankle at a local landfill and he can no longer do so. Sofia misses her Abuelo and wonders what she can do about the dangerous Mount Trashmore. Then she gets an idea—the town can turn the slimy mess into a park! She brainstorms and plans and finally works up the courage to go to City Hall—only to be told by a clerk that she can't build a park because she's just a kid. Sofia is down but not out, and she sets out to prove what one kid can do.
The story focuses on Sofia's desire to rid the town of a huge trash heap. However, it is unclear where all the garbage came from and in the end, the story doesn't explain where all the trash went. The huge pile of trash consists of everyday items, egg cartons, spoiled food, disposable cups. Although the everyday items show how everyone contributes to the pile, most younger readers will miss this lesson.
At first, Sophia is overwhelmed and "her heart skipped a beat as she realized each one of her neighbors had said: "Let me know when it's done!' They all thought Sofia could build it alone." However, Sofia doesn't give up. Instead, she goes to city hall, where she is sent to six different offices, each with a ridiculous silly name like "The Department of Cheese" and the "Office of Monkeys". Younger readers won't understand the humor of dealing with a city's bureaucracy, but they will enjoy seeing a duck, a monkey, and a man dressed as cheese in the offices. Even though Sophia eventually gets the help of her classmates and adults, most of the story focuses on the process of making a park.
Sophia's determination allows her to go through the process of getting the park built, starting with a petition drive. Sophia leads a group of diverse people who hold signs asking people to sign the petition. The illustration shows Iggy Peck, Rosie Revere, and Ada Twist from Beaty's previous books. Although their appearance is quick, readers will enjoy seeing the familiar characters. The petition illustration shows a child in a wheelchair as well as children of different races. Sophia is Latinx, drawn with medium brown skin, and her abuelo speaks one line in Spanish.
Written in rhyme, Sofia Valdez, Future Prez will entertain readers with funny events and detailed illustrations. However, the story lacks Sophia's though process and the theme is not well developed. Nevertheless, the story would be a great conversation starter because readers will be inspired with Sophia's can-do attitude, her leadership skills, and her desire to help others.
Even though Sofia Valdez, Future Prez is a picture book, it is intended to be read aloud to a child, rather than for the child to read it for the first time independently. The rhyming makes the story fun to read aloud. However, some pages are text-heavy and have up to 11 lines on a single page. Sofia Valdez, Future Prez's will entertain readers as it teaches that one person can make a difference.
Sexual Content
Violence
Drugs and Alcohol
Language
Supernatural
Spiritual Content
---
"And that was the moment when Sofia first knew being brave means doing the thing you must do, through your heart cracks with fear," Sofia. –Sofia Valdez, Future Prez