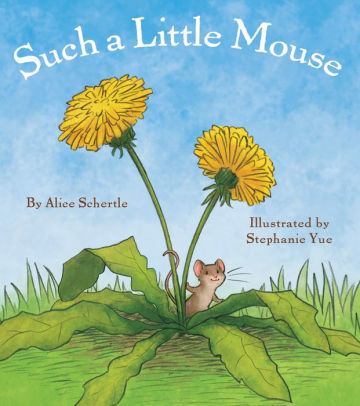 Buy This Book
---
---
"When the day is done, he brings a sprig of watercress home in his mouth. He packs it away in his storeroom, way down deep in his hole. –Such a Little Mouse  
Such a Little Mouse
by Alice Schertle 
AR Test, Picture Book
At A Glance
Interest Level

3-5
Entertainment
Score
Reading Level
2.7
In the middle of a meadow, under a clump of dandelions, lives a curious and adventurous mouse—such a little mouse. Every morning in spring, summer, fall, and winter, one, two, three! He pops out of his hole. And off he goes exploring in the wild world.
Spend a year with a little mouse, with his smart gray coat, with his ears pink as petals, with three twitchety whiskers on each side of his nose. The wide world holds many surprises for such a little creature.
Readers will love seeing the little mouse explore his own backyard. The little mouse finds wonder in every season and everything—a snail, a clover, a reflection of himself in a puddle. As he goes about his day, "he brings a little round seed home in his mouth. He packs it away in his storeroom, way down deep in his hole." As winter approaches, the little mouse's storeroom becomes full of leaves, fruits, acorns, and other yummy foods. When the snow covers the meadow and trees, "he goes, down into his warm hole." The little mouse makes himself a meal of acorn bread and seed-and-watercress soup. Then he snuggles down with a book and a blanket. "Such a little mouse, all snug and warm, deep down in his hole, until spring."
Even though Such a Little Mouse is a picture book, the story is intended to be read aloud to a child, rather than for the child to read it for the first time independently. Each page has 1 to 3 sentences that use onomatopoeia and repetition to keep readers interested. Such a Little Mouse is a wonderful story that teaches about the different seasons.
Such a Little Mouse is a sweet story that highlights the importance of preparing for winter. Even though the little mouse stops to enjoy the little things in life, he also packs away supplies for the winter. The little mouse's days come to life in full-page illustrations that use the colors of each season. Some of the pages include panels that give readers a closer view of the little mouse's activities. If you're looking for more books about the four seasons, check out City Dog, Country Frog by Mo Willems.
Sexual Content
Violence
 Drugs and Alcohol
Language
Supernatural
Spiritual Content
---
"When the day is done, he brings a sprig of watercress home in his mouth. He packs it away in his storeroom, way down deep in his hole. –Such a Little Mouse