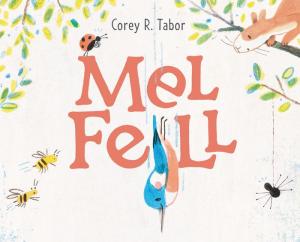 Buy This Book
---
---
"Aren't you scared?" Asked her sister, Pim. "Yes," said Mel. "But I won't let that stop me." –Mel Fell
Mel Fell
by Corey R. Tabor
AR Test, Must Read, Picture Book
At A Glance
Interest Level

4 – 8
Entertainment
Score
Reading Level
1.4
Mel, a kingfisher bird, is ready to learn how to fly. Her mother is away from the nest and her siblings, Pim and Pip, both worry that the drop is too long. Mel is a little afraid too. However, Mel reminds herself, "I've got wings." Then she takes the plunge off her perch.
Mel's fall from her tree introduces readers to a flurry of bright and whimsical characters—from a group of acrobatic squirrels and a chivalrous hive of bees to a helpful spider and heroic snail. Each character tries to save Mel from her fall, but they soon realize that they can do nothing to stop Mel's descent and Mel is left to her own devices. She reaches the water at the halfway point of the book with a big SPLASH. At first, it appears that Mel has fallen . . . until the readers are asked to turn the book sideways and see Mel fly. Mel bursts from the water— fish in mouth— to race the other animals to the top of the tree and into her mother's arms.
Mel Fell highlights this beautifully uplifting message through hand-painted watercolor illustrations with earthy tones. Settings of deep water, high forest canopies, and open skies fill the background of every page, immersing the reader in the kingfisher's specific habitat. Each page has 1 to 4 short sentences written in simple vocabulary, making Mel Fell a wonderful book for an emerging reader. The repetition of certain phrases like, "Mel fell and fell" adds a rhythm that makes the story fun to read out loud. In addition, animated asides from the different animals are given in small, bright pink and blue text bubbles. These comments—exclamations like "Blast," "Aieee," or "Do…not…fear…helpless…little….bird…."— bring unique personalities to every animal presented in the book. These exclamatory asides hold a lot of excitement and would be great for any group of readers wishing to trade-off reading certain sections. The overall result is a book that fills the page with movement, both textual and illustrated.
Tactile interactions incorporated in the book, such as the ask to physically rotate the book halfway through, allows readers to engage in the book in a whole new way. This also works to directly show readers that falling (or failing) is all a matter of perspective. Additionally, an author's note at the end of the story gives a small introduction to the nature of the kingfisher, allowing for an opportunity to teach children about wildlife. All readers, both young and old, will enjoy the young kingfishers in Mel Fell. The small but courageous young Mel will remind everyone that it's normal to be scared when you try new things. Mel's confidence also teaches young readers that believing in yourself can open a whole new world of possibilities.
Sexual Content
Violence
Drugs and Alcohol
Language
Supernatural
Spiritual Content
by Hannah Olsson
---
"Aren't you scared?" Asked her sister, Pim. "Yes," said Mel. "But I won't let that stop me." –Mel Fell