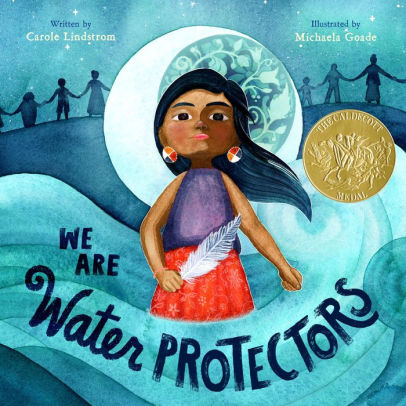 Buy This Book
---
---
"Take courage! I must keep the black snake away / From my village's water. / I must rally my people together!" –We Are Water Protectors
We Are Water Protectors
by Carole Lindstrom 
AR Test, Picture Book
At A Glance
Interest Level

3 – 6 
Entertainment
Score
Reading Level
1.9
Water is the first medicine. It affects and connects us all. When a black snake threatens to destroy the Earth and poison her people's water, one young water protector takes a stand to defend Earth's most sacred resource.
We Are Water Protectors was awarded the Caldecott Medal for being a distinguished American picture book for children. Inspired by the many Indigenous-led movements across North America, this book issues an urgent rallying cry to safeguard Earth's water from harm and corruption. The story speaks against the Dakota Access Pipeline, which was protested by the Standing Rock Sioux. The book ends with an "Earth Steward and Water Protector Pledge" for the child to sign and date.
Beautiful illustrations highlight the connection between people and nature. The parts of the story that tell about the importance of water are completed in shades of blue with other natural colors. Each page has 1 to 3 sentences written in poetry. Even though We Are Water Protectors is written for children, younger readers will not understand the symbolism or the connection between the black snake and the oil pipeline. The black snake only appears in the illustrations twice, but the snake's red eyes, red tongue, and large teeth may frighten some readers.
We Are Water Protectors is a call of action that encourages readers to be "stewards of the Earth" and to "fight for those who cannot fight from themselves." The last two-page spread shows a group of mostly Indigenous people protesting. Unfortunately, the story doesn't include ways that young readers can help the cause, other than signing the "Earth Steward and Water Protector Pledge." While the book shows the connection between people and nature, it misses the opportunity to show how young readers can take action.
We Are Water Protectors' illustrations beautifully highlight the plants and animals that "cannot fight for themselves." Despite this, the symbolism and deeper message will need to be explained by an adult. Parents should read the "more on water protectors" section at the end of the book to better explain the text to younger readers. While the story introduces the importance of water, We Are Water Protectors is better suited for older readers.
Sexual Content
Violence
 Drugs and Alcohol
Language
Supernatural
Spiritual Content
---
"Take courage! I must keep the black snake away / From my village's water. / I must rally my people together!" –We Are Water Protectors