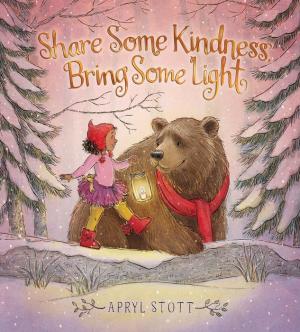 Buy This Book
---
---
"I guess kindness is giving away love instead of gifts," said Bear. "It's doing something nice without expecting anything in return."          –Share Some Kindness, Bring Some Light  
Share Some Kindness, Bring Some Light
by Apryl Stott 
AR Test, Picture Book
At A Glance
Interest Level

5—8
Entertainment
Score
Reading Level
2.7
Bear is sad. All of the other animals are afraid of him because he's so big. But his human friend, Coco, offers to help.
Coco shares her grandmother's advice: "When life gets dark as winter's night, share some kindness, bring some light." They decide to bake cookies to "share some kindness" and make lanterns to "bring some light." But when the cookies and lanterns don't work, they must look for other ways to win over the other animals. And while they're hard at work on their mission of friend-making, Coco and Bear just might discover kindness is a gift that only comes from the heart.
If you want a sweet story with a positive message, then Share Some Kindness, Bring Some Light is the perfect picture book to add to your child's winter reading list. Readers will love the whimsical illustrations full of interesting details. The forest is covered in a blanket of beautiful snow and the animals are snuggled up in their winter clothes. Both Bear and Coco have a splash of red that contrasts the winter wonderland. At first, the forest animals are afraid of Bear, and their fear is clearly illustrated in their facial expressions.
Even though Share Some Kindness, Bring Some Light is a picture book, the story is intended to be read aloud to a child, rather than for the child to read it for the first time independently. Each page has 1 to 11 sentences that include some complex sentence structure. Despite this, most pages are not text heavy and younger readers will be engaged throughout the story.
When Coco first shares her grandmother's advice, Bear is not sure what it means. However, when Bear and Coco find a baby deer stuck in the snow, they jump in to help because it's the right thing to do. Through this experience, the two friends discover the meaning of kindness. Bear says, "I guess kindness is giving away love instead of gifts. It's doing something nice without expecting anything in return."
Sexual Content
Violence
 Drugs and Alcohol
Language
Supernatural
Spiritual Content
---
"I guess kindness is giving away love instead of gifts," said Bear. "It's doing something nice without expecting anything in return."          –Share Some Kindness, Bring Some Light