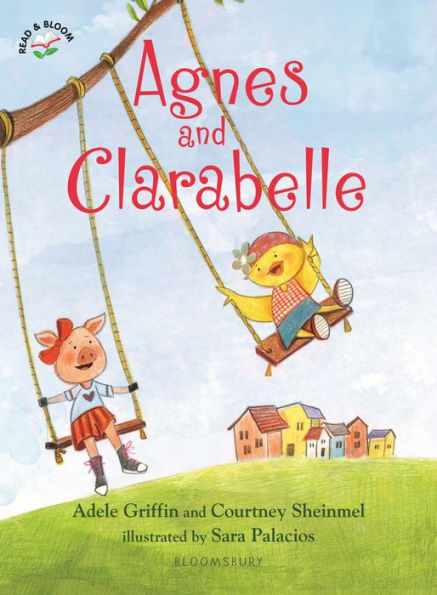 Buy This Book
Buy This Series
---
---
"Nobody knows where I am. I am never, ever going to be found. This is the worst day ever!" Clarabelle. –Agnes and Clarabelle  
Agnes and Clarabelle
by Adele Griffin & Courtney Sheinmel
AR Test
At A Glance
Interest Level

5+
Entertainment
Score
Reading Level
2.9
Agnes the pig and Clarabelle the chicken are best friends throughout every season. Whether it's planning the perfect birthday party in the spring, spending a summer day at the beach, braving a big department store in the fall, or making the very best pizza in winter, they help each other through every up and down. For Agnes and Clarabelle, everything is better when they're together.
Agnes and Clarabelle is broken into four short chapters. Each chapter is a new story, which makes the book perfect if you're looking for a quick bedtime story.
Each story focuses on a conflict that young readers will relate to. In chapter 1, "Spring: Surprise Party," Clarabelle is worried that not everyone will be able to come to her birthday party. On the day of the party, one friend does not show up, but Clarabelle has a wonderful time despite this. In chapter 2, "Summer: Beach Day," Agnes is "scared of a wave knocking me over or a Frisbee hitting my head." Clarabelle comes up with a creative solution that takes Agnes's fears into consideration. In chapter 3, "New Sneakers," Clarabelle gets lost in a mall but is found. In chapter 4, "Winter: Perfect Pizza," the two friends make the perfect pizza that is too pretty to eat.
Agnes and Clarabelle's stories come to life in adorable, full-colored illustrations that show the friends' varied emotions. Various sized illustrations appear every 1 to 3 pages. The illustrations portray a range of animal characters from a bear security guard to an alligator working at the mall. Readers will have fun finding the brightly colored birds that are on almost every outdoor illustration. Large text and simple sentences make Agnes and Clarabelle easy to understand.
Beginning readers will enjoy Agnes and Clarabelle's adventures. The stories don't show perfect solutions to every problem. Instead, Agnes and Clarabelle teaches readers what a healthy friendship looks like. Agnes and Clarabelle is a cute and engaging story that teaches important values. If you're looking for another book that features friendship lessons, check out the Unicorn and Yeti Series by Heather Ayris Burnell.
Sexual Content
Violence
 Drugs and Alcohol
Language
Supernatural
Spiritual Content
---
"Nobody knows where I am. I am never, ever going to be found. This is the worst day ever!" Clarabelle. –Agnes and Clarabelle