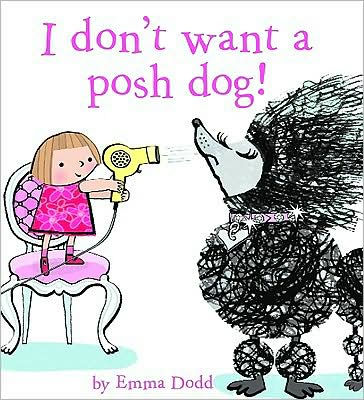 Buy This Book
---
---
"I don't want a bouncy dog. A jump-up-and-pounce-me dog," a little girl said. –I don't want a posh dog
I don't want a posh dog!
by Emma Dodd
Picture Book
At A Glance
Interest Level

4 – 8
Entertainment
Score
Reading Level
1.3
Join one little girl in her quest to find her perfect pet companion. While dogs come in every shape, color, and size, she knows there is only one dog that she will call her very own. The little girl wants a "sweet willy-nilly dog. A not-too-proud dog. A know-me-in-the-crowd dog."
Anyone who has a dog or dreams of having a dog will love I don't want a posh dog! Each page of the picture book has illustrations of dogs that are cute and at times funny. For example, the girl doesn't want "a fancy, attitudey dog." The corresponding picture shows a dog in a fashionable dog carrier wearing a matching headband with stars. The dogs have expressive facial expressions in the illustrations that help bring out each dog's personality.
The repetitive sentences and rhyming text make I don't want a posh dog perfect to read aloud. Each page contains 1-2 short sentences. The large illustrations are cute and contain just enough detail to make the illustrations interesting. Even though I don't want a posh dog! is a picture book, the story is intended to be read aloud to a child, rather than for the child to read it for the first time independently. Whether you're looking for a quick bedtime story or a picture book that will start a conversation about owning a pet, I don't want a posh dog will hit the mark.
Sexual Content
Violence
Drugs and Alcohol
Language
Supernatural
Spiritual Content
---
"I don't want a bouncy dog. A jump-up-and-pounce-me dog," a little girl said. –I don't want a posh dog