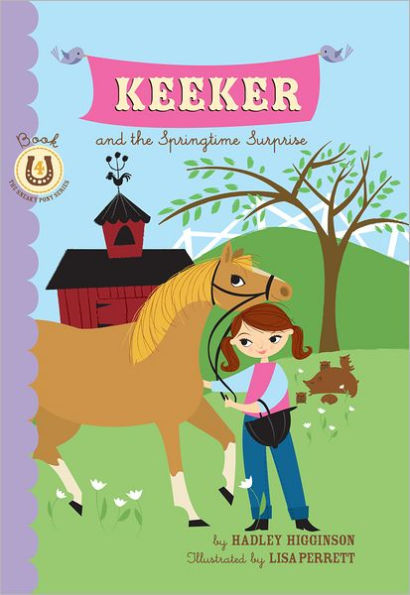 Buy This Book
---
---
"No one cares about us," said Keeker to Plum. "Everyone's all bothered about Pansy. I bet we could run away and no one would even notice." –Keeker and the Springtime Surprise  
Keeker and the Springtime Surprise
The Sneaky Pony #4
by Hadley Higginson
AR Test
At A Glance
Interest Level

5+
Entertainment
Score
Reading Level
4.0
It's springtime in Vermont, and Keeker and Plum have discovered all kinds of surprising things on the farm. Keeker finds a baby bird on the lawn. Plum has a new roly-poly family of groundhogs living in her field. But the biggest surprise of all is the discovery that Keeker's mom's horse is going to have a baby. With all of the excitement, Keeker and Plum get tired of being ignored. Keeker decides staging a play will be just the thing to win back her parents' attention, and the play's ending is even more exciting than Plum or Keeker could have imagined!
Get ready for some springtime silliness as Keeker and Plum help a family of groundhogs. Readers will relate to Keeker, who feels like her parents only care about their horse, who is going to deliver a foul any day. Keeker's frustration of being ignored is balanced by the comic way Plum tries to hide the groundhogs from "Keeker's dad [who] didn't like groundhogs at all; he always yelled and waved his arms at them."
With cute baby animals, a silly horse, and a determined protagonist, young readers will enjoy Keeker and the Springtime Surprise. The story has a relatable conflict and a healthy family unit. However, one negative aspect of the story is Keeker's attention-seeking behavior. For example, once when her parents weren't giving her attention, Keeker "lay down on the ground and worked up a gigantic tantrum. . .she sobbed, flailing her arms around" and later she "stamped her foot a little."
Keeker and the Springtime Surprise is told in five short chapters and has a simple plot. Large black and white illustrations appear on almost every page. The illustrations will help younger readers visualize the characters and events in the story. Beginning readers will need help with some of the more advanced vocabulary such as absentmindedly, clanky, and eventually.
The Sneaky Pony Series will appeal to young readers who will laugh at Keeker's wild imitation. The story's plot jumps around, and young readers will not understand the reference to Don Quixote. However, the conclusion is sweet and happy for everyone, including the hedgehogs. If you're looking for a book with a more positive protagonist, Maggie and the Flying Horse by E.D. Baker would make a better choice.
Sexual Content
When the horse, Pansy, is getting ready to have a baby, Plum "hoped being pregnant wasn't something you could catch, like a cold."
Violence
 Drugs and Alcohol
Language
When Keeker gives Plum a hug, the horse says, "Stop strangling me, you crazy girl!"
Supernatural
Spiritual Content
---
"No one cares about us," said Keeker to Plum. "Everyone's all bothered about Pansy. I bet we could run away and no one would even notice." –Keeker and the Springtime Surprise