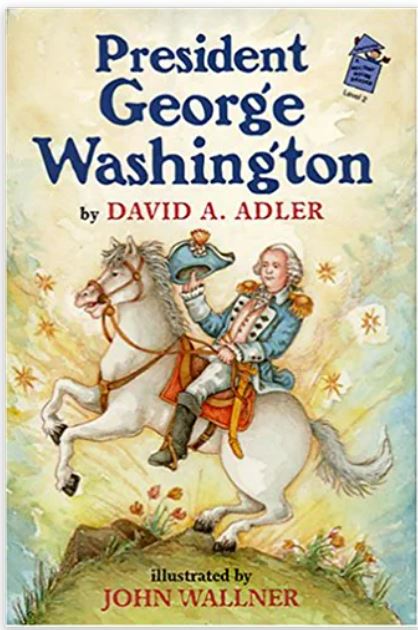 Buy This Book
---
---
"I have often thought," Washington wrote in a letter, "how much happier I should have been, if, instead of accepting a command. . . I had taken my musket upon my shoulder."
–President George Washington
President George Washington
by David A. Adler
AR Test
At A Glance
Interest Level

5+
Entertainment
Score
Reading Level
3.3
When George Washington was young, his mother would not let him go to sea. But later, George became a hero when he led the Continental Army in battle and helped America win its freedom from England. He was elected the first president of the new nation and tried his best to keep the country at peace. George Washington was one of the greatest men of his time. 
President George Washington covers George's life, starting when he was nine years old and living in Virginia. The story explains how he became chief of the Continental Army in the Revolutionary War and the first president of the United States. The story ends with his death. While the book does not go into great detail, readers will learn interesting facts about George Washington and see how he became one of America's heroes.
The book uses large text, short chapters, and simple vocabulary to make it accessible to readers in first and second grade. Each page has two to seven simple sentences and a large illustration. The earth-toned pictures bring George's world to life. While the war scenes are not graphic, the scenes of soldiers fighting Native Americans may upset some readers. The back of the book includes important dates and suggested reading.
Adler gives readers a brief look into George Washington's life and will help readers understand why George Washington was considered "first in war, first in peace, and the first in the hearts of his fellow citizens." Beginning readers who want to learn more about colonial days will find President George Washington educational and engaging.
Sexual Content 
Violence 
During the French and Indian War, George Washington said, "I have heard the bullets whistle, there is something charming in the sound."

The story has several pages that show George Washington and his army fighting Native Americans in the French and Indian War. In addition, the illustration for the Boston Tea Party shows people dressed up as Native Americans with feathers in their hair.
Drugs and Alcohol 
Language   
Supernatural
Spiritual Content 
---
"I have often thought," Washington wrote in a letter, "how much happier I should have been, if, instead of accepting a command. . . I had taken my musket upon my shoulder."
–President George Washington