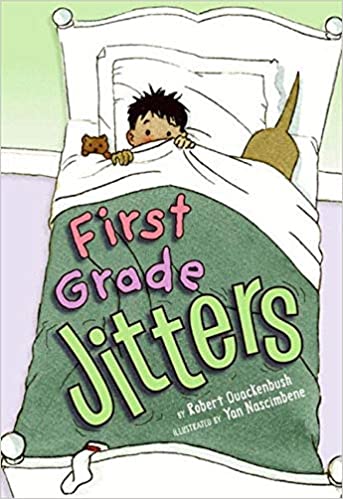 Buy This Book
---
---
"

Now I'm scared. I think I'll go to bed. And stay there

,

"

the boy

.

–

First Grade Jitters
First Grade Jitters
by Robert Quackenbush
AR Test, Diverse Characters
At A Glance
Interest Level

5 – 7
Entertainment
Score
Reading Level
1.9
Here is the story of a young boy who is about to enter first grade and doesn't know quite what to expect. Will his friends be there? Will he have to know how to read and spell? What if he can't understand anything his teacher says? Looks like a case of the first grade jitters! 
An unnamed boy worries about school and all the what-ifs that could happen. While most of the boy's worries are relatable, some are silly. For example, the boy asks, "What if I can't understand what the teacher says? She might say, 'Oogly, boogly.'" With the help of his parents and his friends, the boy realizes that he has nothing to be scared about. 
Bright, realistic illustrations use small details to highlight the boy's worry. For example, in one picture his shoulders are slumped as he kicks a rock. By the end of the story, the boy is jumping with joy and has a big smile on his face. Even though First Grade Jitters is a picture book, the story is intended to be read aloud to a child, rather than for the child to read it for the first time independently. Each page has zero to seven simple sentences that make the story easy to understand. 
Any child who is worried about going to school will relate to the boy in First Grade Jitters. The story will reassure readers that there is nothing to be afraid of. If your child is worried about attending school, First Grade Jitters will help calm his or her fears. Readers may also want to read Danbi Leads the School Parade by Anna Kim, which is a school-themed story about friendship. 
 Sexual Content  
Violence  
Drugs and Alcohol  
Language    
Supernatural 
Spiritual Content  
---
"

Now I'm scared. I think I'll go to bed. And stay there

,

"

the boy

.

–

First Grade Jitters