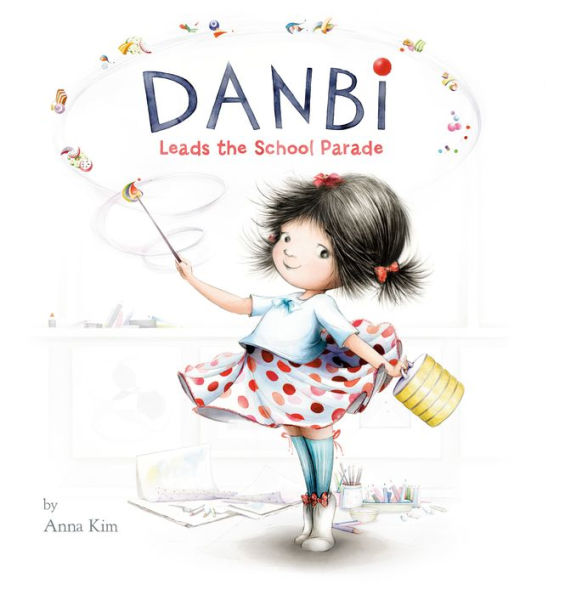 Buy This Book
---
---
"The teacher said something, and everyone pulled out their lunches. That, I knew how to do!" Danbi –Danbi Leads the School Parade  
Danbi Leads the School Parade
by Anna Kim
AR Test, Must Read, Picture Book
At A Glance
Interest Level

3 – 7  
Entertainment
Score
Reading Level
2.0
Danbi is thrilled to start her new school in America. But a bit nervous too, for when she walks into the classroom, everyone goes quiet. Everyone stares. Danbi wants to join in the dances and the games, but she doesn't know the rules and just can't get anything right. Luckily, she isn't one to give up. With a spark of imagination, she makes up a new game and leads her classmates on a parade to remember!
Throughout Danbi's school day, Danbi feels sad because "no one played with [her]." During lunch, Danbi tries to teach a girl how to use chopsticks. This doesn't work, but it gives Danbi an idea and soon the classroom is full of noise—Ting! Ding! Ti-Ding! Boom Boom Boom Tap Tap Tap! Even though the class gets "a little wild," the teacher doesn't discipline the students; instead, she allows Danbi to lead everyone outside so they can continue their musical play.
Unlike most picture books, Danbi Leads the School Parade starts on the back of the front cover and continues all the way through to the back cover. Danbi's story begins with her hugging her grandmother goodbye and traveling far away on an airplane. All readers will be able to relate to Danbi who is excited, but nervous to start school. Danbi's feelings are described in ways that young children will understand. For example, on the first day of school in America, Danbi's heartbeat goes "Boom. Boom."
Each illustration is full of bright colors and movement. Each child is adorably cute and the classroom shows a diverse group of students. Young readers will enjoy exploring every picture and finding the small details that make each illustration fun. Danbi and her classmates' emotions are clearly portrayed through the illustrations. Each page has 1 to 4 short sentences full of fun onomatopoeias that make the story fun to read aloud. Even though the picture book has a simple plot, readers will be enthralled with Danbi's story.
Danbi Leads the School Parade won an Asian/Pacific American Award for Literature Honor Book. Anna Kim immigrated to American when she was young, and she used her experience to create a heartwarming story about friendship. Danbi Leads the School Parade shows that friendships can bloom even if you are from different cultures and speak different languages. In addition, Danbi Leads the School Parade encourages acceptance, kindness, and trying new things. Parents who want to encourage these traits should add All Are Welcome by Alexandra Penfold to their children's reading list as well.
Sexual Content
Violence
 Drugs and Alcohol
Language
Supernatural
Spiritual Content
---
"The teacher said something, and everyone pulled out their lunches. That, I knew how to do!" Danbi –Danbi Leads the School Parade