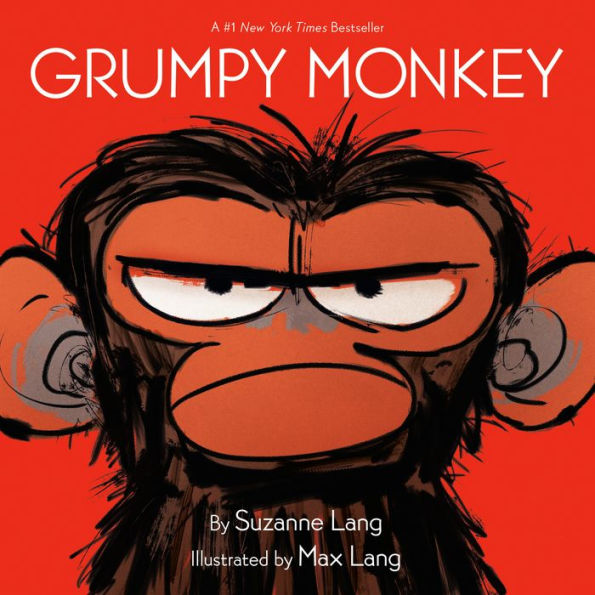 Buy This Book
---
---
"'Why are you grumpy, Jim?' asked Lemur. 'It's such a wonderful day.'" –Grumpy Monkey  
Grumpy Monkey
by  Suzanne Lang 
AR Test, Picture Book
At A Glance
Interest Level

3 - 7
Entertainment
Score
Reading Level
2.2
Jim Panzee is in a terrible mood for no good reason. His friends just can't understand it—how can he be in a bad mood when it's such a beautiful day?
They encourage him to stop hunching, to smile, and to do things that make him happy. But Jim can't take all the advice. . . and has a bit of a meltdown. Could it be that he just needs a day to feel grumpy?
Grumpy Monkey tackles the problem of having a down day with humor. His friends just don't seem to understand why Jim is grumpy, and their advice leads to some silly situations. For example, when Jim puts on a smile, it doesn't look happy. Instead, his smile looks more like a grimace. Soon the whole forest—a snake, a lemur, a frog, zebras, peacocks, birds, and even a lion—is talking about Jim's grumpy mood.
The animals are illustrated using the muted browns and greens of the jungle. A gorilla named Norman appears in all of the illustrations as a fun contrast to Jim. The animals' expressions add to the story's humor and younger readers may enjoy counting all of the hidden insects and critters that appear on each page.
Anyone who has ever had a bad day will relate to Jim. The ending is endearing and humorous because Norman dances with Porcupine and gets a butt full of quills. The last page shows Norman and Jim sitting on a tree branch, and they both agree that "It's a wonderful day to be grumpy." The Band-Aids on Norman's behind will have little readers giggling.
Each page of the picture book has 1 to 7 sentences. Even though the story is a picture book, the story is intended to be read to a child instead of a child reading it independently.
While Jim stays grumpy through the entire story, Grumpy Monkey will have readers giggling. Whether you are in a bad mood or a good mood, Grumpy Monkey will put a smile on your face. Readers who would like to meet another moody character should check out the Pout-Pout Fish Adventures by Deborah Diesen.
Sexual Content
Violence
 Drugs and Alcohol
Language
Supernatural
Spiritual Content
---
"'Why are you grumpy, Jim?' asked Lemur. 'It's such a wonderful day.'" –Grumpy Monkey