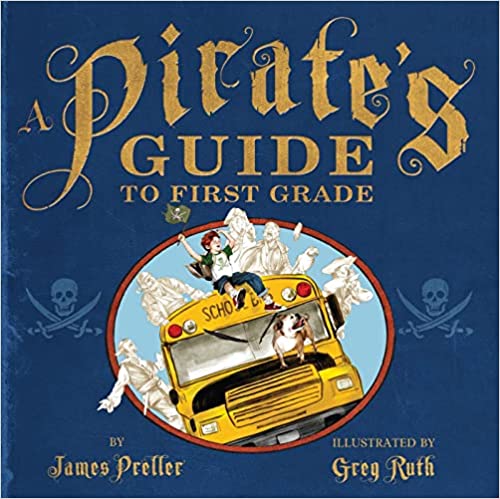 Buy This Book
---
---
"

We dropped anchor and smartly stepped forth t' meet our new

capt'n

. Silver was her name, and a fine old salt was she!"

–

Pirates Guide to First Grade
A Pirate's Guide to First Grade
by James Preller
AR Test, Picture Book
At A Glance
Interest Level

4 – 6
Entertainment
Score
Reading Level
3.0
Arr! It's the first day of first grade, and it's all hands on deck for a young pirate and his crew. How much trouble can they get into? What will they do at recess? And, most important, what treasure awaits them at school? 
Shiver me timbers, summer's almost over and one boy is ready for first grade. He "shined me snappers, and got dressed double quick" and headed off to school. His teacher, "Old Silver," says he's "in for a treat." But after working all day, and playing with his friends, the boy wants to know, "But where's me treasure?" With a map marked with X, will the boy find the treasure he's been waiting for? 
Even though Pirate's Guide to First Grade is a picture book, adults should practice their pirate voice and get ready for a fun read-aloud picture book. Both landlubbers and seaworthy pirates will be ready to hop aboard and learn about one boy's first day in first grade. If you're not up to speed on your pirate talk, the back of the book has a glossary that explains the pirate vocabulary. While the pirate talk is a lot of fun, young readers may need a little help understanding what's going on. 
Since the pirates are only in the boy's imagination, they appear in light brown penciled sketches. The boy and his surroundings are illustrated with realistic, full-color drawings. The kids in the classroom are a diverse group. Each page has one to five sentences, but the advanced sentence structure and pirate vocabulary may be a struggle for young readers. Still, readers will have a lot of fun looking at the pirates and their pirate parrots interact with the kids at school.  
If your child isn't sure what to expect on the first day of first grade, Pirate's Guide to First Grade can help them overcome their fears. While kids will enjoy the pirate talk and the pirate illustrations, the book makes it clear that real treasure is found in books. Readers looking for more books filled with pirate fun should add Pirates, HO! by Sarah L. Thomson, and the Stinky Spike Series by Peter Meisel to their reading list. 
Sexual Content  
Violence  
Drugs and Alcohol  
Language    
Supernatural 
Spiritual Content  
---
"

We dropped anchor and smartly stepped forth t' meet our new

capt'n

. Silver was her name, and a fine old salt was she!"

–

Pirates Guide to First Grade