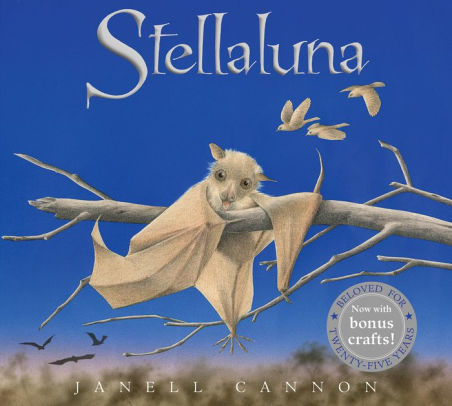 Buy This Book
---
---
"How can we be so different and feel so much alike?" mused Flitter. –Stellaluna
Stellaluna
by Janell Cannon
AR Test, Picture Book
At A Glance
Interest Level

4 - 8
Entertainment
Score
Reading Level
3.5
Separated from her mother before she is old enough to fly, Stellaluna finds out that not all winged creatures eat fruit. But swallowing food that crawls is just one of the amazing things the little fruit bat must learn to do. Not all are lessons in survival, however. As Stellaluna adapts to the habits of her new family, she learns the essence of friendship.
Stellaluna is a beautiful story that illustrates how everyone is not the same. When Stellaluna falls into a bird's nest, she must learn to adapt because the mama bird told her, "You are teaching my children to do bad things. I will not let you back into this nest unless you promise to obey all the rules of the house." As her bird friends learn to fly, Stellaluna tries to do the same things they do, but when she acts like a bird she is clumsy. It isn't until Stellaluna meets another bat that she realizes her actions were "wrong for a bird, maybe, but not for a bat."
The illustrations are simply amazing because they convey Steallaluna's emotions. The beautiful pictures will help younger readers visualize the story's action. Some pictures are heartwarming and others are humorous, but the one thing that remains constant throughout the story is the friendship between the three young birds and Stellaluna.
Each two-page spread contains a page of large text and a full-page illustration. Even though Stellanluna is a picture book, it is intended to be read aloud to a child, rather than for the child to read it for the first time independently. Each page has eight or fewer sentences and the story ends with information about different types of bats.
Stellaluna's story is one that younger readers will want to read again and again, not only because of the beautiful illustrations but because of the happy ending. In the end, Stellaluna is reunited with her mother, but it is clear that Stellaluna's friendship with the birds will never end.
Sexual Content
Violence
Stellaluna's mother is attacked by an owl. "Dodging and shrieking, Mother Bat tried to escape, but the owl struck again and again, knocking Stellaluna into the air. Her baby wings were as limp and useless as wet paper." Stellaluna drops into a bird's nest.
Drugs and Alcohol
Language
Supernatural
Spiritual Content
---
"How can we be so different and feel so much alike?" mused Flitter. –Stellaluna