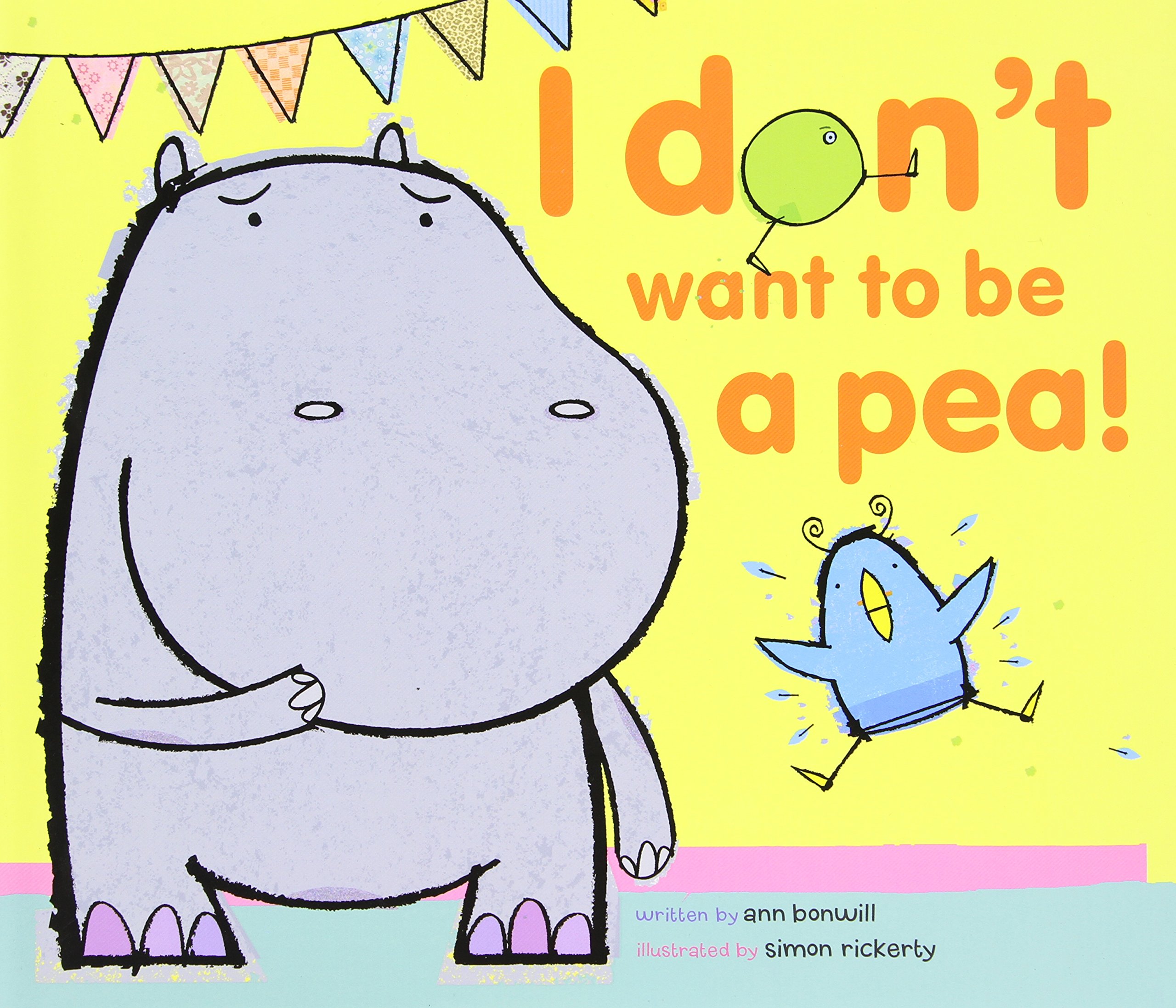 Buy This Book
---
---
"If you like peas so much, then you can be the pea and I will be the princess," Bella. –I don't want to be a pea  
I Don't Want to be a Pea!
by Ann Bonwill 
AR Test, Picture Book
At A Glance
Interest Level

4—6
Entertainment
Score
Reading Level
1.7
Hugo Hippo has a best bird. Bella Bird has a best hippo. And they are going to the Fairy-Tale Fancy Dress Party. Together, of course.
Hugo wants to be the princess (and Bella will be the pea). No, wait—Bella will be the princess (and Hugo will be the pea). No, wait—the first way. No, wait—the second way.
Well, one of them must be the pea if they're going to the party. Well, maybe they won't go then. Hmph. Yes, hmph.
At first, Hugo and Bella think the most important part of going to the party is deciding on a costume. Soon, the two argue and Bella says, "Besides, I don't even want to go to the party with you anymore." Once the two friends are all alone, they realize that their friendship is more important than getting their own way. That's why they both show up at the party dressed as a pea.
Young readers will fall in love with Hugo and Bella, who act like typical children, who want to get their own way. Their dilemma comes to life in brightly colored illustrations that are fun and lively. Readers will giggle at all the funny costumes such as when Bella dresses as a jester, and they'll feel sad when they see Hugo crying in the shower.
Even though I don't want to be a pea is a picture book, the story is intended to be read aloud to a child, rather than for the child to read it for the first time independently. Each page has 1 to 4 sentences that appear in oversized font.
I don't want to be a pea is short enough to be a quick bedtime story, while still having an important message for children. While the story can be used as a conversation starter about friendship, the silly story will captivate readers because everyone can relate to their conflict.
Sexual Content
Violence
 Drugs and Alcohol
Language
Supernatural
Spiritual Content
---
"If you like peas so much, then you can be the pea and I will be the princess," Bella. –I don't want to be a pea